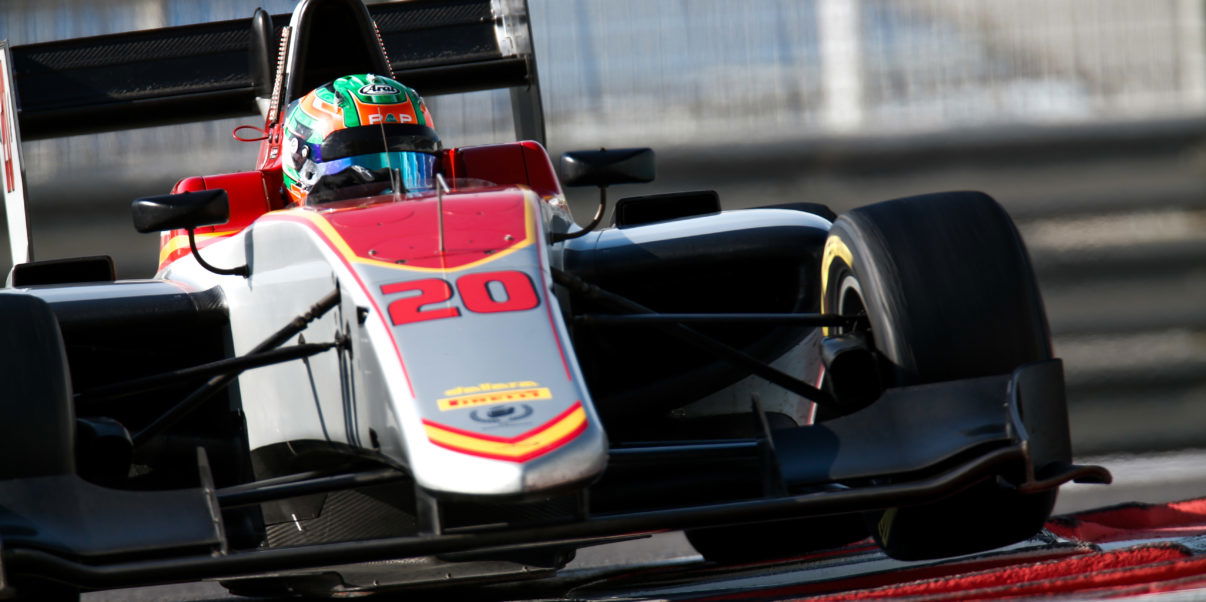 Daruvala quickest in final-ever day of GP3 running
European Formula 3 race-winner Jehan Daruvala has gone quickest in the final GP3 post-season test in Abu Dhabi, the last-ever series session before FIA F3's 2019 introduction.
Daruvala posted the best time in the morning, a 1m55.093s, before improving by three-thousandths of a second in the afternoon to remain top to deny Yuki Tsunoda the chance of leading at the chequered flag.
Jenzer 2019 F3 signing Tsunoda finished second in the timesheets in the later session to have the second-best time overall above Logan Sargeant, who was second in the earlier attempts.
Yifei Ye was fourth in the combined times, with Oscar Piastri fifth and Lorenzo Colombo sixth.
Sebastian Fernandez returned from a day sampling F2 machinery, finishing seventh overall with Campos, above Marcus Armstrong who also came back after taking part in day one.
Devlin DeFrancesco and Alex Peroni completed the top 10 from the fastest times with their morning efforts.
Red Bull-backed Juri Vips had his first try-out of the GP3/16 chassis, ending 11th overall.
David Beckmann drove for ART, a repeat of the first day, and finished in 16th.
Only six competitors did not improve their times in the later period.
This was the last session of 2018 for the ending series, with third-tier F1 support action returning early next year when the F3 2019 chassis' runs in a shakedown.
| | | | | | | |
| --- | --- | --- | --- | --- | --- | --- |
| Pos. | Driver | Team | Morning | Laps | Afternoon | Laps |
| 1 | Jehan Daruvala | Campos | 1m55.093s | 35 | 1m55.090s | 17 |
| 2 | Yuki Tsunoda | Jenzer | 1m55.829s | 29 | 1m55.136s | 25 |
| 3 | Logan Sargeant | Trident | 1m55.159s | 28 | 1m55.675s | 34 |
| 4 | Yifei Ye | MP | 1m55.710s | 29 | 1m55.174s | 27 |
| 5 | Oscar Piastri | Jenzer | 1m55.511s | 25 | 1m55.249s | 25 |
| 6 | Lorenzo Colombo | MP | 1m55.691s | 25 | 1m55.269s | 24 |
| 7 | Sebastian Fernandez | Campos | 1m55.307s | 31 | 1m55.290s | 23 |
| 8 | Marcus Armstrong | Trident | 1m55.723s | 32 | 1m55.313s | 34 |
| 9 | Devlin DeFrancesco | Trident | 1m55.346s | 21 | 1m57.654s | 23 |
| 10 | Alex Peroni | Campos | 1m55.448s | 23 | 1m55.570s | 17 |
| 11 | Bent Viscaal | MP | 1m56.233s | 20 | 1m55.465s | 30 |
| 12 | Juri Vips | Trident | 1m56.365s | 31 | 1m55.544s | 34 |
| 13 | Ben Hingeley | Charouz | 1m55.604s | 25 | 1m55.629s | 25 |
| 14 | Christian Lundgaard | ART | 1m55.806s | 35 | 1m55.809s | 32 |
| 15 | Max Fewtrell | ART | 1m56.261s | 29 | 1m55.815s | 30 |
| 16 | David Beckmann | ART | 1m55.861s | 32 | 1m55.896s | 30 |
| 17 | Lirim Zendeli | Charouz | 1m56.535s | 34 | 1m55.897s | 33 |
| 18 | Enaam Ahmed | ART | 1m56.430s | 31 | 1m55.914s | 28 |
| 19 | Fabio Scherer | Charouz | 1m56.510s | 24 | 1m56.119s | 33 |
| 20 | Federico Malvestiti | Jenzer | 1m56.332s | 31 | 1m56.294s | 27 |
---