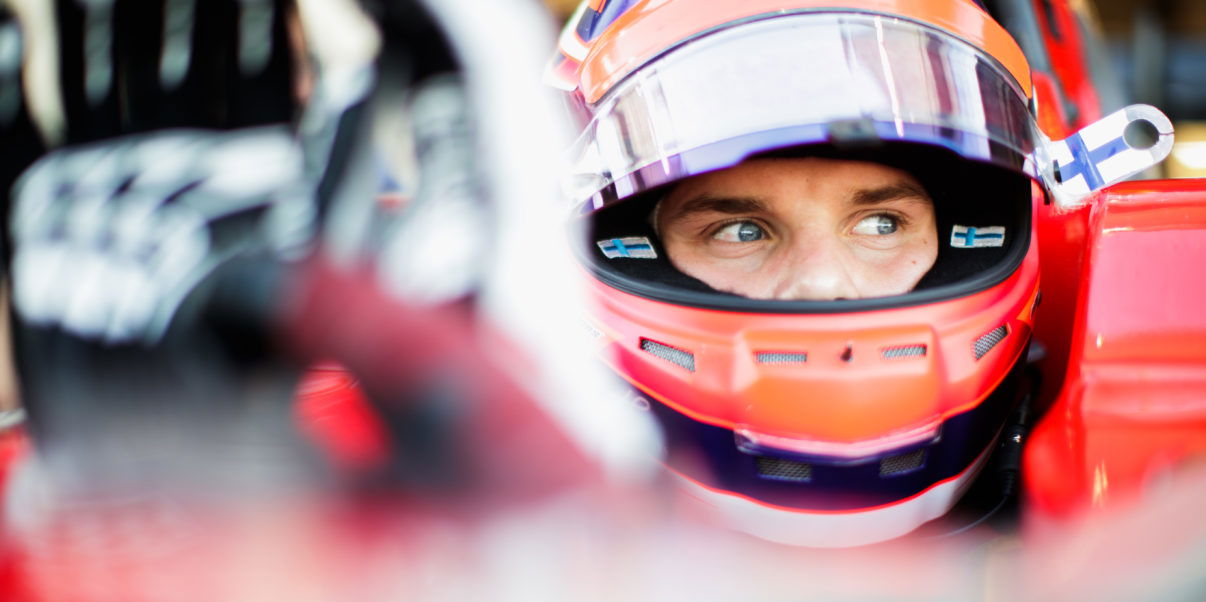 Kari overall leader on day two of GP3 post-season test
Niko Kari continued to lead the overall timings on day two of GP3's post-season tests at Abu Dhabi, posting the fastest time in the morning with his Trident-run Dallara.
The Finn set a time of 1m54.683s to lead Jehan Daruvala by just 0.006 seconds in the opening session, one of three drivers in the 1m54s early on.
Daruvala, who switched from MP to Campos for this day, hit back to top the afternoon standings with a 1m54.753s, a time that did not deny Kari completing a second day with the best lap.
The Indian finished 0.046s above Richard Verschoor as the Dutchman moved to third in the combined times.
Logan Sargeant was third in the morning after moving from Jenzer to Trident-ran machinery, the fourth-best lap throughout, with Linus Lundqvist having the fifth-best effort when going third in the second period.
Oscar Piastri improved to a sixth-best time late on after making the swap in the other way to Sargeant to the Swiss team, with Devlin DeFrancesco seventh and Yuki Tsunoda eighth.
Alex Peroni was ninth, with Lorenzo Colombo completing the top 10 on his first sessions with MP.
Four other fresh drivers also completed both sessions after not being involved on day one.
Ferrari junior Robert Schwartzman was 14th, with Yifei Ye 15th.
Federico Malvestiti ended in 19th, with European F3 race-winner Enaam Ahmed 20th.
Overall times:

| | | | | | | |
| --- | --- | --- | --- | --- | --- | --- |
| Pos. | Driver | Team | Morning | Laps | Afternoon | Laps |
| 1 | Niko Kari | Trident | 1m54.683s | 19 | 1m55.359s | 25 |
| 2 | Jehan Daruvala | Campos | 1m54.689s | 29 | 1m54.753s | 29 |
| 3 | Richard Verschoor | MP | 1m55.379s | 22 | 1m54.799s | 36 |
| 4 | Logan Sargeant | Trident | 1m54.983s | 30 | 1m55.274s | 28 |
| 5 | Linus Lundqvist | Campos | 1m55.345s | 29 | 1m55.041s | 26 |
| 6 | Oscar Piastri | Jenzer | 1m55.975s | 25 | 1m55.085s | 22 |
| 7 | Devlin DeFrancesco | Trident | 1m55.694s | 28 | 1m55.089s | 26 |
| 8 | Yuki Tsunoda | Jenzer | 1m55.676s | 25 | 1m55.177s | 29 |
| 9 | Alex Peroni | Campos | 1m55.245s | 17 | 1m55.608s | 19 |
| 10 | Lorenzo Colombo | MP | 1m56.323s | 27 | 1m55.495s | 27 |
| 11 | Christian Lundgaard | ART | 1m55.535s | 25 | 1m56.313s | 33 |
| 12 | Ben Hingeley | Charouz | 1m55.896s | 29 | 1m55.665s | 28 |
| 13 | Max Fewtrell | ART | 1m55.688s | 23 | 1m55.733s | 32 |
| 14 | Robert Schwartzman | Charouz | 1m56.413s | 28 | 1m55.801s | 30 |
| 15 | Yifei Ye | MP | 1m56.900s | 30 | 1m55.826s | 19 |
| 16 | Olli Caldwell | Trident | 1m55.829s | 28 | 1m55.971s | 21 |
| 17 | Felipe Drugovich | ART | 1m56.070s | 22 | 1m56.414s | 31 |
| 18 | Fabio Scherer | Charouz | 1m56.924s | 29 | 1m56.129s | 32 |
| 19 | Federico Malvestiti | Jenzer | 1m57.627s | 37 | 1m56.734s | 31 |
| 20 | Enaam Ahmed | ART | 1m57.359s | 29 | 1m56.800s | 31 |
---