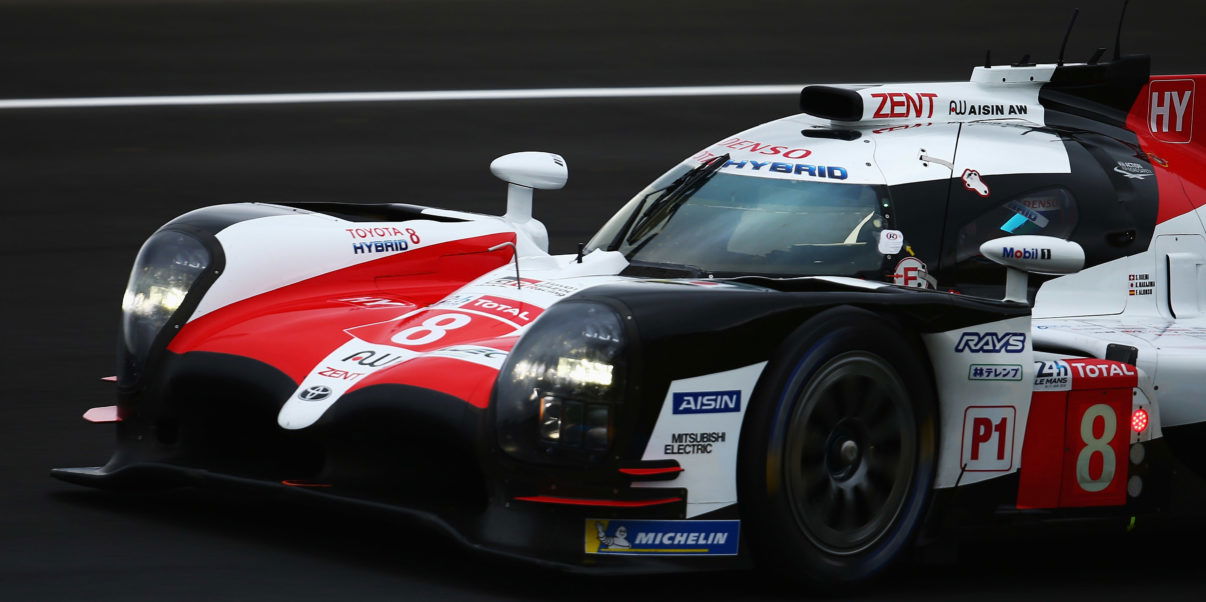 Hour 24 report: #8 car gives Toyota first Le Mans win
Toyota has won the Le Mans 24 Hours for the first time with its #8 car driven by Fernando Alonso, Sebastien Buemi and Kazuki Nakajima.
The #8 led a 1-2 for the Japanese manufacturer, winning by two laps above the #7 piloted by Mike Conway, Kamui Kobayashi, and Jose Maria Lopez.
Alonso is the first Formula 1 champion since Graham Hill in 1972 to claim victory at the event as he takes his tally of triple crown honours to two alongside his Monaco Grand Prix triumphs.
Buemi becomes the only FE title-holder to win at Circuit de La Sarthe, while Nakajima is the first Super Formula champion to take victory since Andre Lotterer in 2014.
Alonso crucially extended the lead from 42s to 1m16s in hour 19 after many yellow flag issues on track delayed the #7 machine then piloted by Lopez.
His lead stretched out further to over 90s when Lopez spun at the Dunlop chicane.
Further drama hit the #7 in the penultimate hour as Kobayashi started cruising on track, being told to remain at 80kph, in what was believed to be a fuel issue after missing an expected pitstop and extending a stint to 12 laps, that extended the #8 lead to two laps.
It then received a 10s stop/go penalty for 'exceeding the amount of allowed fuel', and another for 'exceeding the maximum allowed laps per stint'.
The #3 Rebellion with Mathias Beche, Thomas Laurent, and Gustavo Menezes finished third overall above the Swiss outfit's #1 driven by Neel Jani, Andre Lotterer, and Bruno Senna.
Jani also served two stop/go penalties for exceeding allowed fuel and stint length.
Jenson Button's first experience of the race in the #11 SMP Racing entry alongside Mikhail Aleshin and Vitaly Petrov ended with around 55 minutes remaining after stopping off track.
In LMP2, the #26 G-Drive Racing machine driven by Andrea Pizzitola, Roman Rusinov, and Jean-Eric Vergne won the category, finishing fifth overall and 19 laps behind the #8.
Signatech Alpine's #36, piloted by Nicolas Lapierre, Andre Negrao and Pierre Thiriet, was sixth overall and second in class, with the #39 GRAFF seventh overall and third in P2 with Vincent Capillaire, Tristan Gommendy and Jonathan Hirschi at the wheel.
The GTE Pro class was topped by a Porsche 1-2, with the #92 'Pink Pig' leading the #91 'Rothmans'-liveried car.
Michael Christensen, Kevin Estre and Laurens Vanthoor drove the #92, with Gianmaria Bruni, Richard Leitz, and Frederic Makowiecki in the #91.
A highlight of the racing in this category was the fight between the second Porsche and #68 Ford, driven by Makowiecki and Sebastien Bourdais.
Makowiecki fiercely defended the then-second place from the Frenchman, having his driving standards investigated with no action taken, leaving Bourdais angered after his stint.
Twitter: @MFranchitti The only reason they are still running is because I am not alone in the deal and I couldn't compromise… https://t.co/Ne1nvFEbPH (@BourdaisOnTrack)
Bourdais, along with team-mates Joey Hand, and Dirk Muller classified third in class with the #68 Ford Chip Ganassi machine.
GTE Am's honours went to the #77 Dempsey-Proton Porsche and Julien Andlauer, Matt Campbell, and Christian Ried.
Spirit of Race's #54 Ferrari was second after stints from Francesco Castellacci, Giancarlo Fisichella, and Thomas Dlohr.
The #85 Keating Ferrari finished third with Jeroen Bleekemolen, Ben Keating, and Luca Stolz.
It was in second place before spinning into the gravel at Mulsanne and causing a further slow zone while it made its way out of the area.
---