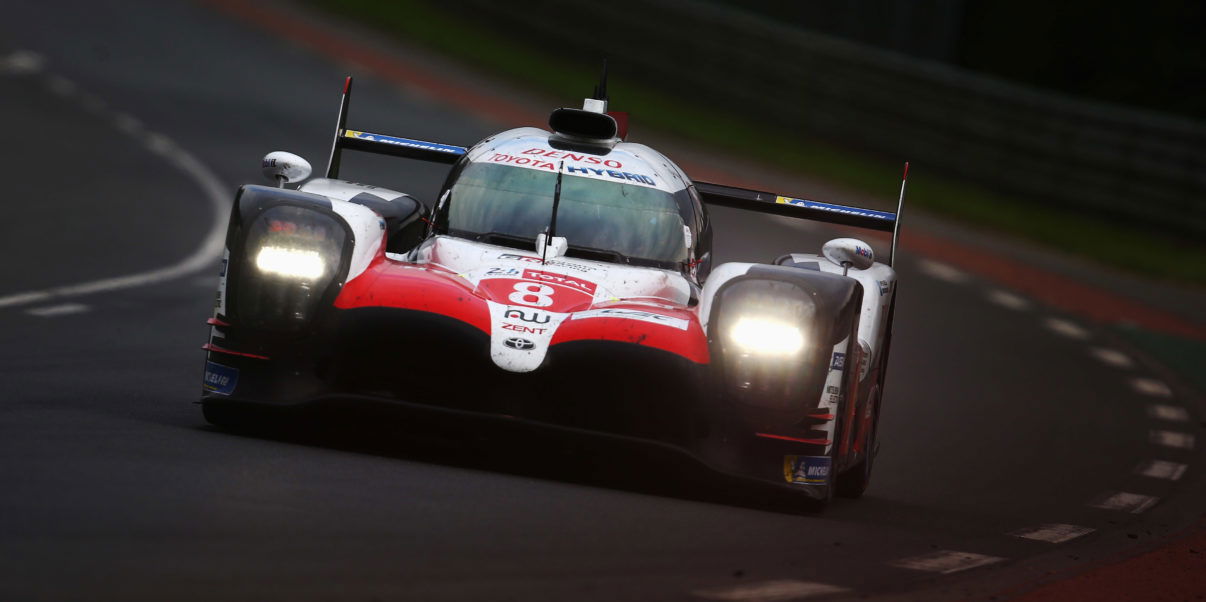 Hour 18 Report: Nakajima takes race lead
Toyota #8 leads the 24 Hours of Le Mans after 18 hours of racing.
Kazuki Nakajima passed Kamui Koboyashi in the sister Toyota just before the two-thirds distance.
Overnight, Fernando Alonso drastically reduced the gap to the #7 car before handing over to Nakajima. Koboyashi was briefly able to extend his lead over the #8, before Nakajima rapidly closed the gap and made a clean move up the inside of his countryman.
From there on, Nakajima and Sebastien Buemi extended the #7's lead at the top of the order.
Both Toyota's were handed a one minute stop-go penalty for over speeding in the slow zones, but their lead over the #1 Rebellion Racing in P3 meant the penalties had no impact on the positions.
Both Rebellions hit small problems overnight, with the #3 losing around seven minutes in the pits just after the half-way mark. In the #1, Neel Jani complained about balance within the car, saying it pulled to the left, but he was able to drive through the problems.
The #10 Dragon Speed was once again in drama as Ben Hanley suffered a big spin not long before the three-quarters mark. Hanley hit the wall heavily and, though he was able to limp back to the pits, the car was retired.
The #26 G-Drive leads the LMP2 class, just a lap ahead of the ##23 Panis Barthez Competition, while the sister car became the first retirement of the second half of the race.
Just before the 13 hour mark, Jose Gutierrez span across the run off area at the Porsche Curves, hitting the barrier and bouncing back onto the track. He was able to walk away from the #40 Oreca.
Porsche leads the Pro-GT class, with the #92 car just ahead of the #91, while the #68, #69, #67 Ford Chip Ganassi Team cars and the #63 Corvette Racing – GM are all on the same lap as the second Porsche.
Dempsey – Proton Racing's #77 Porsche leads the Am-GT class.
Two GT class cars also saw their Le Mans come to an early end overnight. Alexander Sims in the Pro-class #82 ran backwards into the tyre walls at the Porsche curbs. He was able to return to the pits with a severely damaged rear end, where the car was retired. The Am-class #88 Dempsey-Proton Racing also retired after a heavy crash.
The #10 Dragon Speed was once again in drama. Ben Hanley suffered a big spin, hitting the wall
A number of other drivers were caught up in incidents though there was no need for a safety car.
---