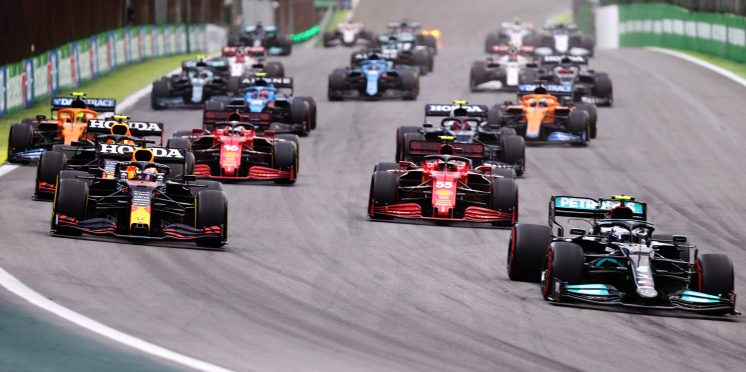 F1 sprint races at risk amid disagreement over costs, says McLaren
McLaren CEO Zak Brown believes Formula 1 could be forced to scrap sprint races in 2022 due to teams being unable to agree on extra funding.
Last year F1 decided to trial three sprint events as an experiment to see if they could become a regular part of a grand prix weekend.
While the plan to have six sprints has been agreed for this season, they haven't been approved as of yet because teams haven't come to an agreement over extra costs for the races.
It has been reported that teams were given extra money in 2021 to cover any crash damage sustained, but F1 wants to ditch that for this year.
Although it has offered all 10 teams an extra £2.65m, the bigger outfits are not happy with this figure and fear it will compromise car development.
Brown claimed that one team called for the cost cap to be raised by $5m, but some of the smaller outfits believe this is a bluff to give them more money to spend on improving their 2022 cars.
With only two months until the first round in Bahrain, the ongoing dispute threatens to blow F1's sprint race plans.
Asked how F1 can settle the feud over extra costs, Brown said, as quoted by Motorsport.com: "We might not, which would be the unfortunate thing."
Under the current governance structure, for F1's rules to be changed during the season a 'super majority' of 28 votes out of 30 is needed from the F1 commission.
Brown let his feelings known about the bigger team' push to increase the cost cap limit, calling it "nonsense".
"We all have the same challenge," he said. "If you do happen to have more incidents, that's the same problem we all have. And to me that's part of the sport. It is dealing with challenges: not I just want to solve it by getting my chequebook out."
He added: "One team in particular wanted a $5 million budget cap increase, which was just ridiculous, and had no rational facts behind it.
"Then, when you challenge those facts, they go, 'but you need to anticipate things just in case'. So you just sit there and you go: 'That is just nonsense.'"
Brown believes F1 should consider focusing on getting approval for sprint races for 2023 – where only six teams need to show support for future rule changes – and abandon the six sprints planned for this year.
"I'd like us not to run into a situation where we're voting for 2022, where we have to get back to eight votes, because we passed a milestone date," Brown said.
"I think we should go ahead and lock in now 2023, with no budget cap raise at all, if you want to be hard about it.
"Then maybe either there can be a compromise made and we can raise it a little bit so we can go ahead and start with 2022, or we skip 2022. And then I think a couple of these teams should have to explain to the fans why there's no sprint races."
---