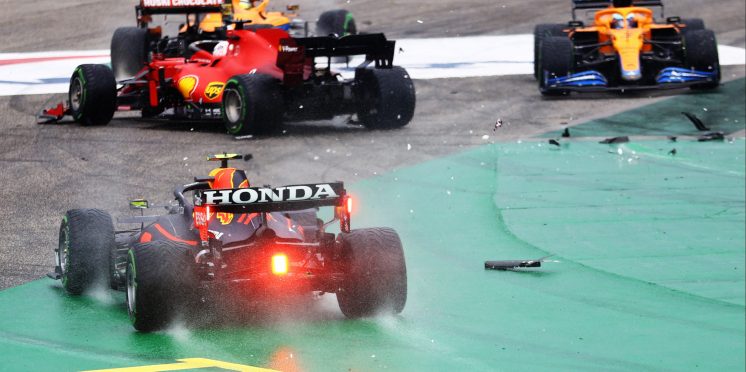 Ferrari: F1 teams should pay for crash damage over driver errors
Ferrari team principal Mattia Binotto believes consideration needs to be taken whether Formula 1 teams should pay rivals for crash damage if their driver causes an incident.
The introduction of the $145m budget cap has left teams scrambling round to try and meet the limit, with larger outfits being hit harder by the new rules.
Red Bull recently called for the cost cap regulations to be altered following the repair damage it has been left with from the last two races.
Ferrari themselves were the victims of a costly first-lap crash, with driver Charles Leclerc taken out by Lance Stroll at Turn 1 in the Hungarian Grand Prix.
While Binotto felt a more lenient approach for car damage wasn't necessarily the right solution, he argued teams should be forced to pay for other cars repairs if their own driver was blamed for causing an accident.
"I think there is value for discussions in the near future with the other team principals, FIA and F1," said Binotto, as quoted by Motorsport.com.
"Obviously if you're not guilty, having such damage in the budget cap is something which is even more of a consequence now.
"Should we add exemptions? I'm not sure that's the solution. I think it may be very difficult to be policed.
"But I think that what we may consider is that if a driver is faulty, the team of the driver should pay at least to the other teams for the damages and repairs. That will make the drivers more responsible."
Red Bull has been left with expensive crash repairs for a second consecutive race after both drivers were involved in a multi-car pile-up at the first corner.
Max Verstappen's 51g impact at the British Grand Prix had already left the team with a $1.8m bill, but it now fears the recent damage could have severe consequences.
Despite losing a bargeboard and sustaining damage to the floor, Verstappen came home in the points, but team-mate Sergio Perez retired from the opening-lap collision, which has left his Honda engine potentially unrepairable.
Red Bull team boss Christian Horner said the "brutal" nature of the budget cap needs addressing in order to prevent teams being penalised when not at fault for incidents.
"It's brutal under the cost cap," said Horner. "I think it re-affirms that when you have an incident that isn't your fault, that we're paying a significant price for that and that's something that isn't budgeted for.
"It is something that I think does need to be looked at in greater detail by the FIA."
---