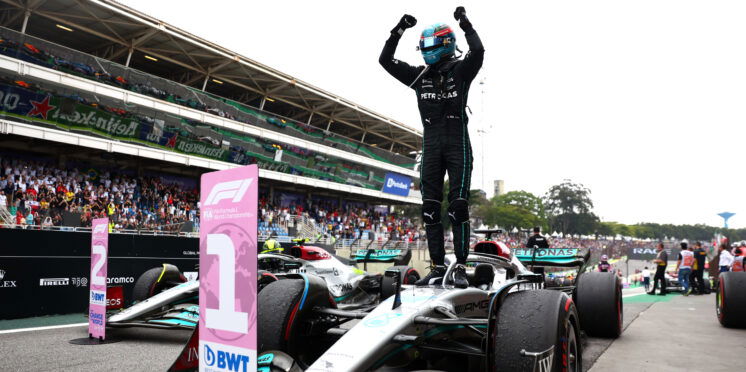 Mercedes cautious over Brazilian GP prospects despite 2022 win
Mercedes says it is not taking its prospects for this weekend's Brazilian Grand Prix for granted despite being tipped to repeat its victory from last year.
Last year's triumph at Interlagos remains Mercedes' last victory in Formula 1 as the Brackley-based outfit is still chasing its first win of 2023.
There is reason for the team to be optimistic after the floor upgrade it introduced in Austin showed promising signs, raising expectations that it can challenge rivals Red Bull in Brazil.
But while the W14 has come on strong in recent races, Mercedes is refusing to get drawn in by the prospect of having a package capable of ending its winless streak.
Asked if the 2023 Mercedes could increase the team's chances of an even more competitive showing in Brazil than last year, team boss Toto Wolff, as quoted by Motorsport.com said: "To be honest I don't know. I think we can see with all teams that there is a certain degree of correlation of last year's performance and this year.
"But there is not enough data to make that solid assumption, so I don't know. Both feet on the ground and let's see where we are at Interlagos."
Mercedes scored a second place finish in Mexico last weekend that made amends for Lewis Hamilton's disqualification from a podium finish at the US Grand Prix the week before.
While the car remains difficult to drive, Wolff says there is a lot of encouraging signs that the W14 is heading in the right direction.
"I think we've seen that it is providing more downforce, more driveability," he said. "The car is a little bit less tricky.
"Still, the genes are there, Lewis said to me [in Mexico] 'she's still so difficult to drive although she's faster', so I think for us it was important to see whether directionally we were going in the right directions for next year.
"We seem to be on the right path because you must not forget, the car that we've designed didn't have that floor, that airflow, these sidepods, leading edges and all the Christmas decoration around the design. So hopefully that can now be a stepping stone."
---