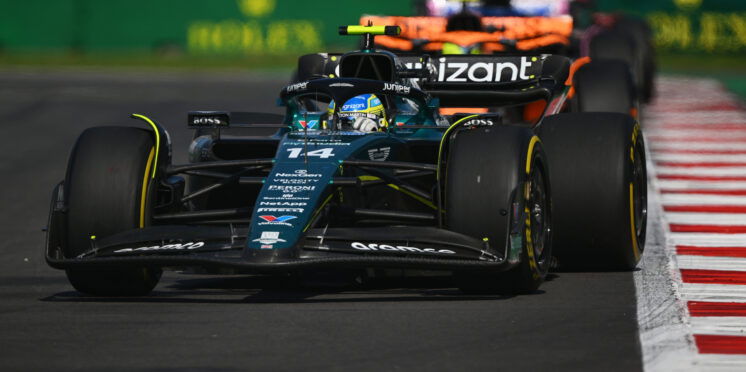 Alonso concedes Aston Martin 'not fighting for anything' in final races
Fernando Alonso insists Aston Martin is "not fighting for anything" in the remaining three races of the 2023 Formula 1 season, with focus now shifting to next year.
Aston Martin's form has hit a downward spiral after the team's confession that it went in the wrong direction regarding its in-season car development.
This has resulted in the Silverstone-baed outfit slipping from third in the constructors' championship to fifth in just a matter of races.
Alonso's strong run of results early in the season saw him sit third in the drivers' standings for much of the year, but the Spaniard has now fallen to fifth and has three drivers within 32 points of his current tally.
Alonso suffered another miserable weekend in Mexico as he struggled for pace at the Autodromo Hermanos Rodriguez, starting only 13th before retiring with suspected floor damage.
Ahead of the final races, Alonso is clear Aston Martin's struggles will likely continue and will be about learning for the future.
Asked about Aston Martin's expectations for the next race in Brazil, Alonso said, as quoted by Motorsport.com: "Honestly, we are not fighting for anything.
"We will learn, even if we have to start from the pitlane, and you know that is more useful than just spending the weekend.
"In the constructors' championship, we are locked in in the position we are. In the driver's championship, we will lose a couple of places.
"But I mean, it is incredible that we are in front of Ferraris, or George or Lando or whatever, but we will lose those positions. They have a very fast car. And yet, let's see what we can do."
While Alonso accepts Aston Martin is going through a "difficult time", he stressed the team is doing everything it can to improve the current situation.
"We are working as much as we can," he said. "It's not that we are just happy with the situation. It's not the position we wish we were, but at the same time, we are working very hard to reverse the situation.
"And sometimes you learn more from the difficulties than from the celebrations. So right now we have a difficult time.
"And we are trying to do as many tests as possible, giving as much feedback as possible to the factory in Silverstone. And hopefully, as I said, finish on a high, and not on a low."
Asked if Aston can finish the season on a high, Alonso said: "I think so, we still need to go to three different places, three different circuits, which will give us more data again on the car.
"It depends on what we call finish on a high. If we think that we will fight for podiums or something like that? I don't think so. But to finish in a competitive way, I think we still have the possibility."
---