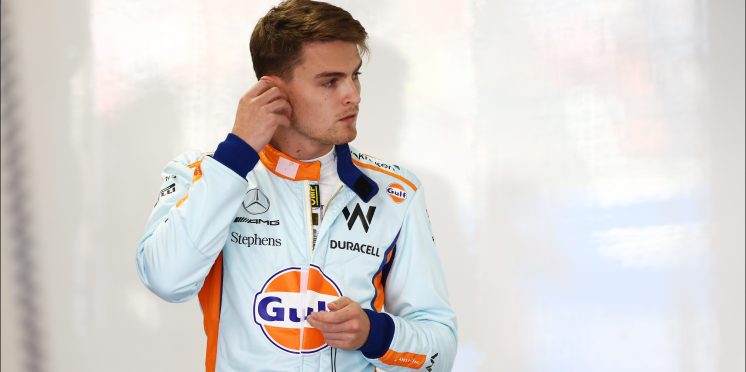 Williams want Sargeant to remain in second F1 seat for 2024
Williams team boss James Vowles insists the team wants Logan Sargeant to continue racing in its Formula 1 car next year.
Sargeant is under pressure to earn a second season with the Grove-based outfit after a run of crashes since the summer break.
Despite qualifying in the top 10 for the first time this year at Zandvoort, Sargeant crashed both in Q3 and in the race, before further incidents followed in Singapore and Japan.
This has come during a crucial point in the season where Williams is considering who will partner Alex Albon next year and is hoping Sargeant shows enough of an improvement to retain his seat.
There has been speculation that a series of drivers are in contention to replace Sargeant should Williams decide to drop him, with Felipe Drugovich, Liam Lawson and Mick Schumacher all linked with a drive.
But Vowles has given Sargeant a major boost in his hopes of retaining his seat, declaring Williams want to help the American in any way possible to remain at the team in 2024.
"Logan has very clear targets that he has to hit before the end of the season and we're working with him continuously," said Vowles.
"That's the important point: we're working with him. We want him to succeed, and we want him in the car next year. This is very much on us as well.
"We have taken someone straight from Formula 2 without any significant testing, put a day and a half in Bahrain in this car, and then wished them well on a season that has been awfully challenging for rookie drivers, full stop."
While Sargeant's string of accidents have been the big talking point surrounding his future, Vowles stressed this had masked the rookie driver's progress in recent races.
"There were some very positive signs to take out of it," he said. "First and foremost, Logan is not on the same aerodynamic specification as Alex was.
"We have updates that are on Alex's car that are not on Logan's due to the amount of attrition we've had this year. So often when you see a performance offset, it's not quite what it would seem on the timing pages.
"Furthermore, to that, if we look at the case of Suzuka, he did a build-up across the weekend. As he went into FP3. he did a time that matched Alex and, as we go into qualifying until the accident, he was overlaying line online within a 10th of Alex's performance as well, at one of the trickiest circuits of the season.
"So, the progress is there in certain forms, but very clearly being marred by a number of other issues and accidents that have appeared as well."
He added: "We will continue to work with Logan and invest in Logan, as we want him to succeed. He's on a journey with us as Williams.
"We have a young driver programme that we will continue to invest in. Only at the point where all of us come to the conclusion that we've reached the end of that road will we make any decisions. But we're nowhere near that yet."
---