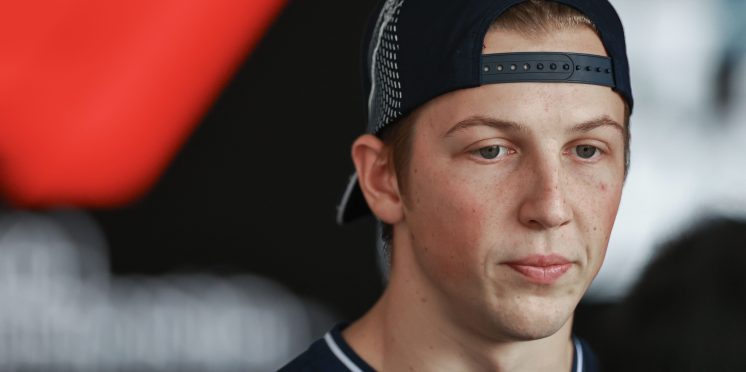 Lawson 'wouldn't be happy' returning to F1 reserve role for 2024
Liam Lawson says he "wouldn't be happy to go back" to being Red Bull's reserve driver as he continues to stake his claim for a 2024 AlphaTauri Formula 1 seat.
Lawson was handed an unexpected F1 debut in Zandvoort after Daniel Ricciardo sustained a broken bone in his hand and has continued to stand in for the Australian at the last two races.
Despite the late call-up and limited running in the AlphaTauri prior to his debut outing, Lawson has impressed during his super sub appearances, qualifying and finishing in the top 10 at last weekend's Singapore Grand Prix.
It was thought Lawson's form had brought him into contention for a full-time seat at AlphaTauri next year, but Ricciardo and Yuki Tsunoda are expected to be retained.
Now that he has gotten his first taste of F1, Lawson admits it would be disappointing to have to return to a reserve driver role.
"I wouldn't be happy to go back to being reserve, but obviously, I know how hard it is to get into Formula 1," Lawson said, as quoted by Motorsport.com.
"And I understand that that can be really difficult sometimes. So obviously, what will happen, will happen, but these things I just haven't really thought about too much. I'm just trying to make the most of this."
Lawson expects clarity on his future once Ricciardo is ready to return, but the Kiwi insists he is just focused on performing at Suzuka this weekend.
"To be honest, there hasn't been a huge amount of time to discuss the future," he added.
"On what's happened so far, it's been pretty positive, But I guess the message for me has just been to keep my head down now and try and keep delivering until obviously things clear up, until this opportunity I have ends when Daniel comes back.
"So, it's basically just doing a good job but keep doing the same thing.
"Obviously, I want to be in Formula 1. Now I have this chance, I'm trying to do everything I can to show that I can be here. But in terms of all those discussions, those will happen after this weekend."
Given the lack of preparation before he was drafted in to the AlphaTauri seat, Lawson is satisfied with his performances, although he feels there is still more he can improve on.
"There's just more with more time in the car, but for the nature of the situation, for how I've come into it, I think we've done well," Lawson said.
"I'm racing guys who have done 11 or 12 races in this season already, so we're definitely playing catch up.
"Every week, I get more comfortable with the car, so hopefully I go into this weekend feeling another step more comfortable.
"Compared to any other car I've driven it takes a lot more time to adjust to Formula 1."
---