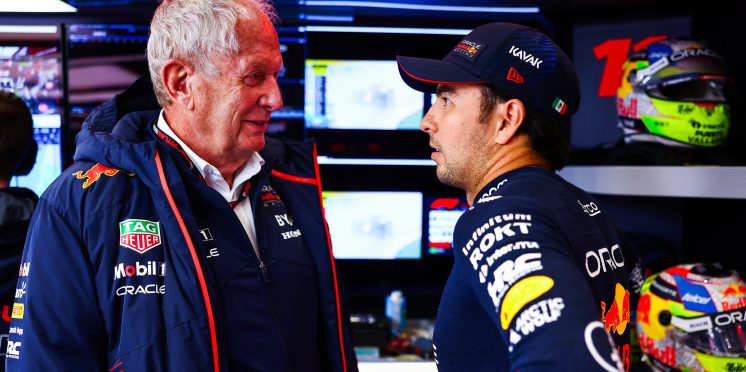 Horner addresses Marko/Perez saga after Red Bull silence
Christian Horner has broken the Red Bull Formula 1 team's silence over motorsport advisor Helmut Marko's comments about Sergio Perez's recent form being attributed to his ethnicity.
Marko made the remarks when speaking on Red Bull's personal TV station ServusTV, suggesting that Perez's lack of focus was down to him being "South American".
His comments soon surfaced across social media, leading to Marko issuing a statement apologising for the his "offensive remark" before speaking directly to Perez about the matter.
Perez confirmed on Thursday that he and Marko held a private conversation over the issue and had cleared the air.
Red Bull did not speak publicly or release a statement in relation to Marko's comments ahead of the Singapore Grand Prix, something that was put to Horner after first practice in Singapore.
Speaking to Sky Sports F1, Horner said Red Bull refrained from addressing the incident through a public statement as Marko is an employee of the wider Red Bull firm and not the F1 team.
"Firstly those comments weren't right and Helmut quickly realised that and apologised for that, both publicly and directly to Sergio," Horner said.
"He spoke directly to Sergio about it and you're always learning in life, even at 80 years of age. Inevitably lessons have been learnt.
"Checo is a massively popular member of our team, he's an important member of our team. I pushed very hard to sign him for the 2021 season, we have a huge following around the world and we take that very seriously and responsibly.
"The fan following, not just that Checo has but the team has and Formula 1 has, we're very conscious of. This is his 250th race, we want to focus on that.
"From Helmut's perspective, he's apologised. He's not an employee of Red Bull Racing, so in terms of why didn't we put out a statement? He's part of the wider Red Bull group and the group issued that apology through the ServusTV channel."
When asked if there would be a further internal investigation going forward, Horner said: "It's not really a question for me to answer. We've obviously spoken about it, I know he regrets what he's said.
"He's apologised and even at 80 years of age, it's still not too late to learn."
It has been suggested that F1 and the FIA should take action against Marko to ensure the siltation is dealt with appropriately.
Horner went on to say that Red Bull had "communicated with the FIA and FOM throughout the last week and as you can imagine that [any sanctions] is very much a matter for them, not for the team".
---