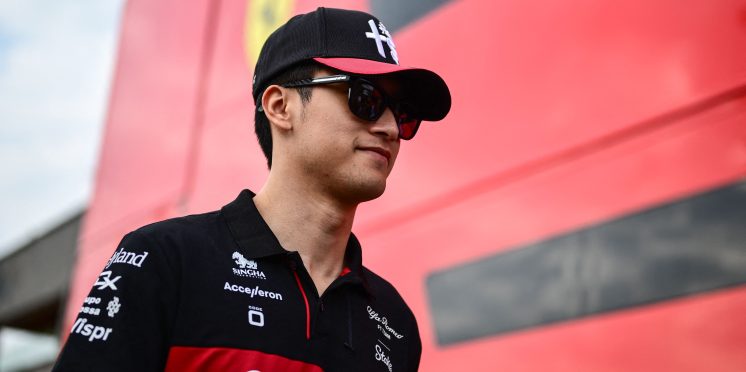 Zhou confirmed at Alfa Romeo alongside Bottas for 2024
Alfa Romeo has announced Zhou Guanyu will drive for the team in 2024 after signing a one-year contract extension.
The Sauber-run outfit was known to be one of the few remaining teams to have not confirmed its driver line-up for next year, with speculation circling as to who would partner Valtteri Bottas in 2024.
But ahead of this weekend's Singapore Grand Prix, Alfa Romeo revealed Zhou would be staying put for a third straight season.
Zhou, who made his Formula 1 debut with the team in 2022, has impressed Alfa in the sophomore year, proving a close match for his highly-experienced team-mate Bottas.
While Alfa has slipped back from its 2022 form, Zhou has claimed two points finishes this season in Australia and Spain, as well as securing a career-best qualifying performance at the Hungarian Grand Prix.
The new deal will see Zhou, who became the first-ever Chinese driver to race in F1, make a debut appearance in front of his home crowd when the Chinese Grand Prix returns to the calendar next year.
"Signing again with the team is always a great feeling, especially when we know how things are shaping up," Zhou said.
"I am proud to be part of Alfa Romeo F1 Team Stake and grateful for their trust: I have been working extremely hard since day one and there is an incredible level of motivation to keep doing so every day forward.
"My relationship with Valtteri is really good, and we are working closely together and with the team to push everyone forward. I am also very excited about the opportunity to finally race with my team in China, in front of my home crowd.
"It will be a great moment and I'm proud to be able to share it with all those who have supported me."
The announcement means Alfa Romeo will run the same driver pairing for a third consecutive year, with Bottas – who joined from Mercedes in 2022 – heading into the final year of his multi-year deal.
Alfa Romeo's team representative Alessandro Alunni Bravi said: "The decision to continue our journey with our driver line-up unchanged is testament to the investment we have made in our project.
"Nothing in Formula One changes overnight, and we have taken a conscious decision to focus on stability and to keep building our team up together as we embark on an important period of transition.
"Valtteri and Zhou are drivers of known talent and skill and they work really well together: they are well-matched and can push each other. Valtteri has taken a real leader's role within the team, pushing us all to give our best; Zhou has made impressive steps forward in the last two years and we expect him to continue on this trajectory in 2024."
Alfa Romeo also confirmed current Formula 2 championship leader and Sauber academy driver Theo Pourchaire would continue as the team's reserve driver in 2024.
---