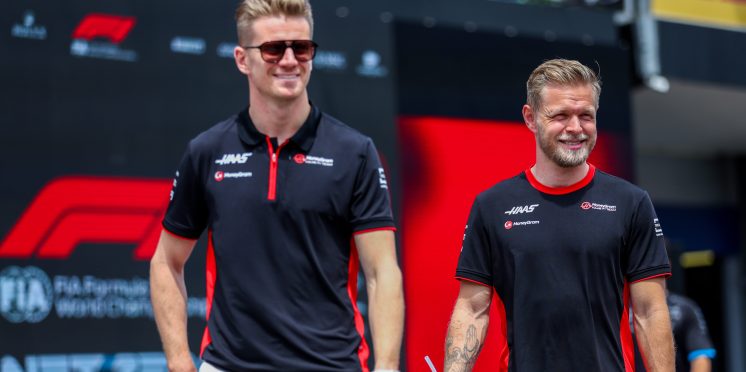 Haas name unchanged driver line-up for 2024 F1 season
The Haas Formula 1 team has announced Nico Hulkenberg and Kevin Magnussen will remain at the American-owned outfit for 2024.
Haas opted for an experienced pairing when it named its driver line-up for this season, signing Hulkenberg alongside Magnussen, with the duo having started almost 350 grand prix's between them.
Hulkenberg hadn't raced full time in F1 since leaving Renault at the end of 2019 when Haas signed him to replace Mick Schumacher, while Magnussen made a surprise comeback last year after spending 2021 racing in sportscars.
While the VF-23 has proved difficult to master in race trim as it suffers with high tyre degradation, the team has managed to score points at four races to sit eighth in the constructors' championship.
"I think it's safe to say that we've had an extremely solid driver pairing this season in Formula 1 and ultimately there was no reason to look to change that moving forward," said Haas team principal Gunther Steiner.
"We've had to tackle our issues this season with regards to the VF-23, we don't hide from that, but we've been extremely fortunate to have had two drivers whose feedback is invaluable in assisting our engineering objectives.
"Kevin and Nico gelled well right from the get-go and together they've both scored points, and in particular, Nico has excelled in qualifying – getting into Q3 on six occasions.
"Of note is also just how much energy both drivers bring to the table, they've been fantastic not only in terms of their engagement within the team, but critically, in our partner activations and fan facing opportunities.
"Kevin and Nico are clearly enjoying their time in the sport, they both have mature heads on their shoulders, and they fundamentally understand what it is we're asking of them. In turn, now it's down to us as a team to look ahead to 2024 and ensure we have a car that's capable of scoring points consistently."
Magnussen, who scored a shock maiden pole position in Brazil last year, said despite 2023 being a difficult year for Haas, there was many more opportunities for it to build on for next year.
"I'm obviously very happy to see my relationship with MoneyGram Haas F1 Team extended once again," said Magnussen.
"My return in 2022 had been unexpected but was filled with numerous highlights, and although this season hasn't gone quite as we'd hoped, we've still managed to get into the points and shown potential in the package we have.
"There's plenty of racing remaining in 2023 and we've got a lot of work to do to continue to understand the VF-23 – that learning can be applied into the 2024 car."
Hulkenberg scored Haas' best result of the season in Melbourne by finishing P7 and the German felt having his future secure would  allow him to focus on helping the team maximise its chances in the second half of the season.
"It's nice to get things sorted early for next season to just keep the focus on racing and improving performance," Hulkenberg said.
"I enjoy being part of the team and share Gene and Guenther's passion for it. We're competing in a very tight midfield and I'm looking forward to building on what we've done together so far and taking that forward into 2024."
---