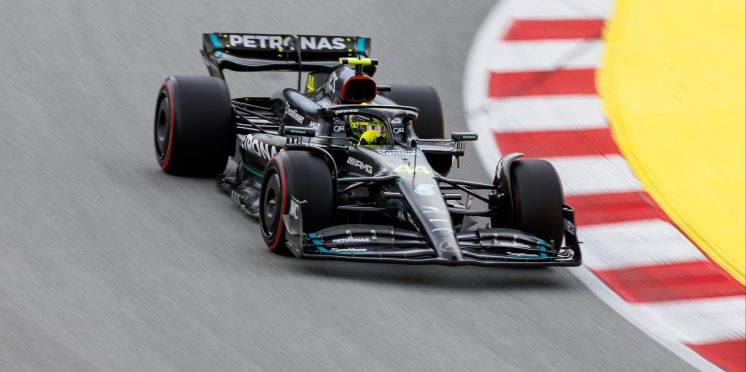 Mercedes anticipates Canada to be a 'bigger challenge' for upgraded W14
Mercedes is expecting its newly-upgraded Formula 1 car to face a "bigger challenge" at the upcoming Canadian Grand Prix than its recent breakthrough in Barcelona.
In what proved to be the first real test for Mercedes' upgrade package after its debut in Monaco, the team scored a double podium finish in Spain with Lewis Hamilton and George Russell finishing second and third respectively.
While it was more than 20 seconds behind the dominant Red Bull RB19, the result was a major boost for Mercedes after its struggles since the ground-effect era began last year.
But although Barcelona helped Mercedes climb to second in the constructors' championship ahead of Aston Martin, the Brackley-based outfit is keeping its expectations in check heading to the Circuit Gilles Villeneuve in Montreal.
The low-downforce configuration represents a completely different challenge to Barcelona and Mercedes anticipates it will be more of a challenge to repeat the double podium.
Speaking in Mercedes' post-race debrief, trackside engineering director Andrew Shovlin said: "The fact is that the update kit works very well around circuits like Barcelona with a lot of high-speed performance.
"We've been better at the fast circuits and the front-limited tracks. We ended up with a really good balance and really good race pace.
"Now, where we are going to go next week, Montreal, it's a very different circuit. There are more low-speed corners, quite a lot of straight-line full throttle and we would expect more of a challenge there.
"We are not thinking that we are going in nipping at the heels of Red Bull. We are aware that Canada is likely to be a bigger challenge than the Sunday we just had in Barcelona."
Shovlin believes Mercedes will be looking more over its shoulders at the chasing pack than ahead at current championship leaders Red Bull, expecting the main fight to be with Ferrari and Aston Martin, as well as Alpine.
"We are thinking it will be more along the lines of some of the earlier races where we were definitely in the bunch with Ferrari, with Aston, and now Alpine look to have joined that group," he explained.
"But it's great racing there. It will be good fun and we are certainly going to be fighting to find every little bit of performance we can.
"The way the grid stacks up now you can be P2 or you can be P10, and there are only a few tenths in it."
---