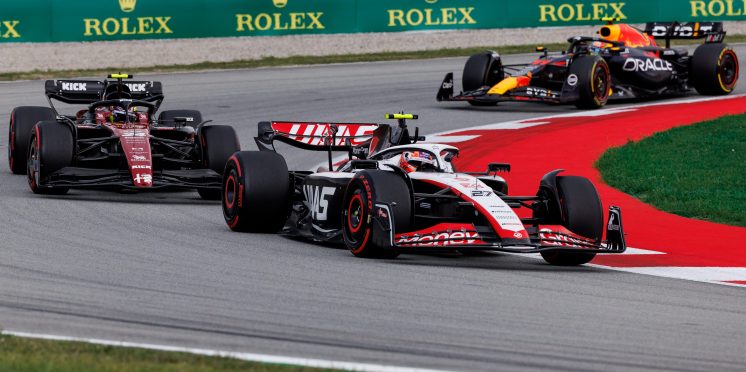 Hulkenberg urges Haas to prioritise race pace over qualifying
Nico Hulkenberg says Haas needs to focus on improving its race form after failing to convert a top 10 starting position into points at Formula 1's Spanish Grand Prix.
Hulkenberg was third quickest in the second free practice session in Barcelona and would go on to qualify ninth for Sunday's race.
It was Haas' latest showing of its impressive turn of speed over one lap this season, but its struggles over a race distance were exposed further at the Circuit de Barcelona-Catalunya.
Both Hulkenberg and Haas team-mate Kevin Magnussen were the only drivers to run a three-stop strategy, with the VF-23 overworking its tyres that saw the pair finish well out of the points.
Hulkenberg acknowledged Haas' performance discrepancy between qualifying and the race was something the team had to address going forward.
"I'd rather have it the other way around," Hulkenberg said, as quoted by Motorsport.com. "But that's the trend and the characteristic we see so far this year, and we need to try and balance it more between Saturday and Sunday.
"Because obviously whilst it's nice to bang out a nice quali it always then raises expectations, and you get a downer on Sunday which is not so easy to cope with and to explain to people all the time. So some work for the longer-term future, I think."
Hulkenberg explained the struggles Haas faced with tyre degradation in Spain, admitting he instantly ran into issues with graining through each stint.
"It was an option [three stops], but it was the bail-out option, kind of!" he said. "I just hit really high deg all race long, it started right after the start. I was eaten up alive pretty much, just instantly ran into heavy graining on front and rear and was just going backwards.
"So we opted obviously to stop early but the trend continued even on medium, on hard, on any tyre. I think the pace was then okay, relative to our main competition, but obviously, we were a stop behind.
"You're not going catch that up and we weren't able to afford it yet to outpace them even with fresher tyres. So good over one lap, but over 66, not so much. And we need to find something for the race."
Despite Haas being susceptible to high tyre wear, Hulkenberg had no regrets not trying a more conservative approach, believing it was the team's only chance to fight for the points-paying positions.
"We have to try something we have to try to create an opportunity," Hulkenberg added. "If you save five seconds at the beginning, I will still have the same result now, so we know that.
"We're not here to do a coffee race. So I was consciously pushing, I heard the tyres screaming, but I still had to do it."
---