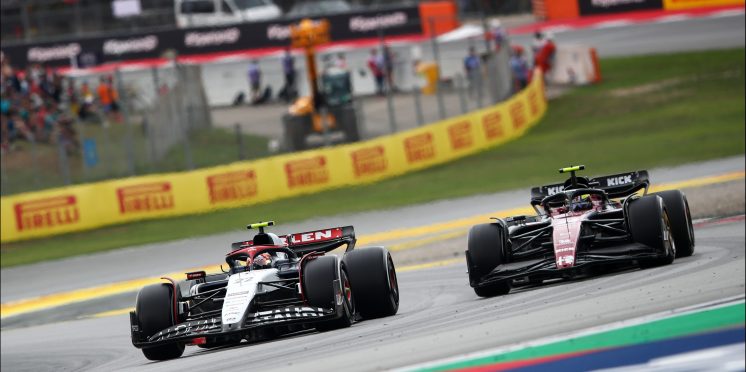 Tsunoda hits out at 'really unfair' penalty in Zhou battle
Yuki Tsunoda has voiced his frustration at the penalty he received for forcing Alfa Romeo's Zhou Guanyu wide in Formula 1's Spanish Grand Prix, calling it "reality unfair" and "ridiculous".
Entering the final stages of the race, both drivers were running in the points when Zhou used DRS down the main straight to attack Tsuonda for ninth place at Turn 1.
Tsuonda defended the inside of the corner forcing Zhou the long way around, but as the pair braked, Zhou jinked left and took to the escape road to avoid making contract with the AlphaTauri driver.
The incident was reviewed by the FIA stewards, who ruled Zhou was ahead at the apex and was entitled to racing room, handing Tsuonda a five-second time penalty.
The punishment dropped Tsuonda three places down the order after he took the chequered flag in P9, missing out on two points, while Zhou was promoted to ninth and secured his second top-10 finish of the season.
Giving his reaction to the stewards' decision, Tsuonda said, as quoted by Motorsport.com: "It was a ridiculous penalty and it feels really unfair."
Recalling the incident further, Tsunoda suggested that Zhou had "pretended" there was no room for him to place his car before he took to the run-off area.
"When I saw [Zhou coming], I left the room and I feel like he just gave up in the early stages," he said.
"He went outside and pretended like he got forced out, but he didn't. Definitely, there was still space outside.
"Obviously I gave him pressure but there's still space, so I don't understand why it was a penalty. It feels really unfair, really harsh."
Tsunoda revealed he was not aware of his penalty until after he crossed the finish line and felt he and the team should have had the opportunity to give their side of the events before the FIA made their call.
"I just heard and after chequered flag, which I was really happy. But after that radio, I was really disappointed," the Japanese driver said.
"At the same time, [I felt] a bit curious… It is good to have a bit of discussion with the FIA because they give five seconds without any discussion and the race is over.
"So, it feels unfair… [I feel] exhausted, flat."
Zhou gave his own version of the incident and believed it was the right call to penalise Tsuonda as without taking to the run-off zone they would have collided.
"I was ahead before braking into Turn 1 and then mid-corner, I was actually giving a lot of space. Then I just saw him [and he] wasn't stopping." said Zhou.
"[He tried] to release the brakes [but he] ran me off, which I had to take avoiding action and [use the] escape road, otherwise we would be crashing together.
"So, that was tricky after that because I had so much rubbish on my tyre. But then, in the end, I was able to keep behind him in the right position and get the position back."
---