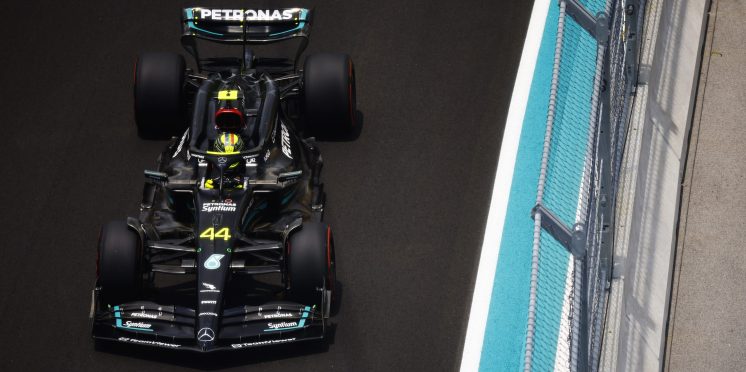 Mercedes to debut F1 upgrades at Monaco GP after Imola cancellation
Mercedes will not delay the introduction of its major upgrade package despite the cancelation of the Emilia Romagna Grand Prix, choosing to debut the new components next week in Monaco.
Following a difficult start to the 2023 Formula 1 season where it has just one podium finish in five races, Mercedes has opted to go in a different direction in car concept to improve its form.
The German manufacturer had intended to unveil its major revamp of the W14 at Imola, but extreme weather prompted F1 to call off the event.
But while Imola's cancelation has prevented the first opportunity for Mercedes to run the updates, it has no plans to push back the arrival of the new parts despite Monaco not being the ideal circuit to bring upgrades to.
Teams historically decide against introducing new components at a street circuit due to the risk of accidents being far greater and the layout means it is more difficult to gather valuable data.
Mercedes would have logically waited until the Spanish Grand Prix to debut the upgrades as it is a traditional track, but it has elected to run them as the earliest opportunity.
Part of the reason for this decision is that Mercedes is convinced the updates, which include changes to the sidepods, floor and suspension, will deliver the step forward in performance it needs.
One of the W14's weaknesses that has held back Lewis Hamilton and George Russell is confidence under braking, which the modified suspension is aimed at fixing.
Moreover, reverting back to the original-spec car would have put more workload on the team, with the updated package having already been sent to Imola and is now being transported directly to Monaco.
Mercedes heads to Monte Carlo sitting third in the constructors' championship just six points behind second-placed Aston Martin.
The Principality has not been a happy hunting ground for Mercedes the past two years with neither car being classified in the top four at both races.
---