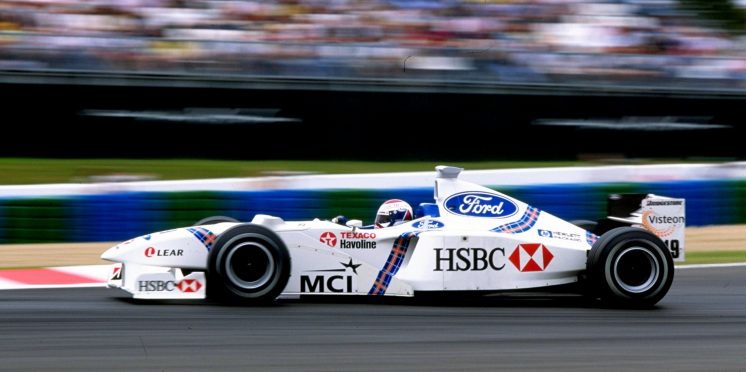 Ford officially announces F1 return from 2026
Ford has announced it will be return to Formula 1 as an engine supplier after more than two decades from 2026.
The American car giant withdrew its F1 operation at the end of 2004 when it ran the Jaguar team and badged Cosworth engines, but confirmed on Friday that it will be back for the new era of engine regulations beginning in 2026.
While its announcement referred to its F1 entry plans, there was no mention of a tie-up with any of the current teams.
It is expected that Ford will announce an engine partnership with Red Bull at the team's 2023 car launch in New York following months of speculation.
Red Bull does plan to build and design its own fully-fledged power unit from 2026 through its Red Bull PowerTrains division, but is open to working with a manufacturer to provide technical support.
"This is the start of a thrilling new chapter in Ford's motorsports story that began when my great-grandfather won a race that helped launch our company," said Ford's executive chair Bill Ford.
"Ford is returning to the pinnacle of the sport, bringing Ford's long tradition of innovation, sustainability and electrification to one of the world's most visible stages."
F1's rapid growth in America and a greater emphasis on electrical output from future power units were cited by Ford as key factors in its decision to return to the series.
The return of Ford to grand prix racing has been welcomed by F1 CEO Stefano Domenicali, who believes the manufacturer will add "huge value" to the grid.
"The news today that Ford is coming to Formula 1 from 2026 is great for the sport and we are excited to see them join the incredible automotive partners already in Formula 1," said Domenicali.
"Ford is a global brand with an incredible heritage in racing and the automotive world and they see the huge value that our platform provides with over half a billion fans around the world.
"Our commitment to be Net Zero Carbon by 2030 and to introduce sustainable fuels in the F1 cars from 2026 is also an important reason for their decision to enter F1.
"We believe that our sport provides the opportunity and reach unlike any other and we cannot wait for the Ford logo to be racing round F1's iconic circuits from 2026."
---