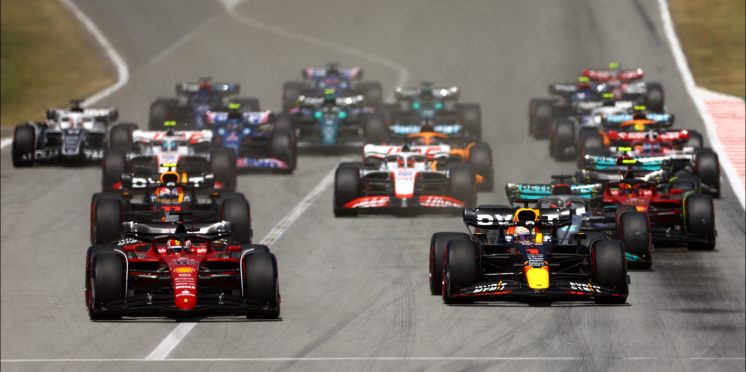 Horner warns teams could miss races unless budget cap is raised
Red Bull team principal Christian Horner believes Formula 1 teams could be forced to miss as many as four races this year unless the budget cap limit is adjusted.
The rise in inflation levels and freight costs has sparked a debate about increasing the cap to ease pressure on teams amid fears they could struggle to meet the $140m limit.
Some team bosses have called for action to be taken, while others have made it clear they would be against any changes being made.
F1 and the FIA are aware of the situation, which Horner predicts could "even get worse" in the second half of the season if the matter is not dealt with.
"I think we need the FIA to address the inflationary issue," said Horner, as quoted by Motorsport,com. "Because I think basically probably about seven of the teams probably need to miss the last four races to come within the cap this year, from the consensus that there has been up and down the paddock.
"It's not just about the big teams now, it's teams in the middle of the field that are really struggling with the inflationary rate that we're seeing that could even get worse in the second half of the year.
"I think the FIA have a duty of care in a situation like this. I know they're taking it very seriously because as I say, you'd almost be at the point where I think for certain teams, from numbers that were presented earlier in the [Spanish GP] week, that they would have to miss a few grands prix to even get anywhere near the numbers."
Horner is clear no team wants to face the consequences for breaching F1's financial regulations, which, at worst, could lead to a team being thrown out of the championship.
"I think nobody wants to be in that position, which is why I think the second six months of the year, the FIA need to address the issue, because things like energy bills, just cost of living, we see that the costs are growing exponentially," he said.
"And Formula 1's not exempt from that. We see it in freight, that's quadrupled. And that's not something we can control."
Not all team principals agree with Horner's stance, with Alpine boss Otmar Szafnauer insisting he would not support an increase to the cap.
He said the team "kind of anticipated a little bit of inflation" but is still within the cost cap limit, despite not planning for the rise in freight costs they are now experiencing.
Szafnauer also responded to Horner's claim that teams would miss races, arguing it is possible to meet $140m limit by sacrificing the budget on car development.
---