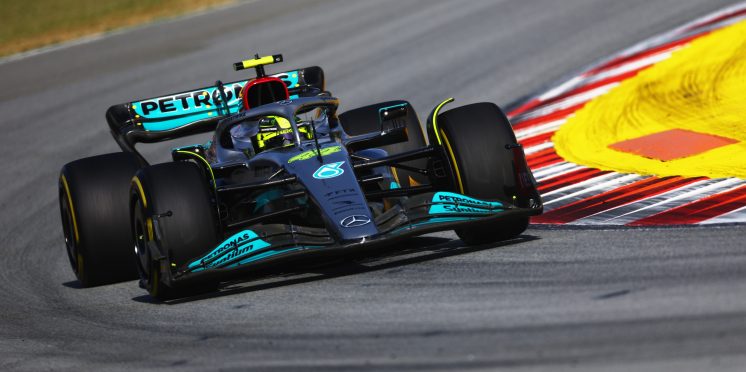 Hamilton: Spain upgrades have made Mercedes F1 car 'way better'
Lewis Hamilton believes the updates Mercedes has brought to the Spanish Grand Prix have made its Formula 1 car "way better", with porpoising less of an issue in Friday practice.
Mercedes enjoyed one of its most competitive showings of the year in Barcelona as both Hamilton and team-mate George Russell ended FP2 in the top-three, only a tenth adrift of pace-setter Charles Leclerc.
The German manufacturer had made a series of changes to the W13 in a bid to improve its performance, after being held back by the ongoing porpoising problem that has plagued its 2022 season so far.
But speaking after Friday's running, Hamilton was upbeat about Mercedes' progress after a difficult start to the year.
"I'm positive, yeah," Hamilton said. "Super happy with the progress, so a big, big, big, big thank you to everyone back at the factory for not giving up and for continuing to push.
"We're not the quickest yet, but I think we're on our way. It's the first time we've driven down the straight without bouncing. We still have some bouncing, but it's way better."
Russell shared Hamilton's optimism, saying the updates have made a difference to how the W13 felt on-track to previous races.
"The car is definitely reacting differently," Russell explained. "We've got different limitations this time. We definitely don't have the porpoising on the straight, which is good, but we're still experiencing a bit here and there in the corners, which ultimately you need to dial out."
Despite the clear improvement, Russell felt there were still minor issues to be dealt that wouldn't be resolved instantly to put Mercedes on Ferrari and Red Bull's level.
"There probably will be a solution in the pipeline, but probably nothing this weekend that we can instantly implement," he said.
"I think it's finding that balance between what we want to set up the car for, qualifying or for the race, and the compromises we want to make. But we're in a good spot."
Hamilton too acknowledged that Mercedes could not expect to put all of its troubles behind them in one weekend, but sees reasons to believe it is heading in the right direction.
"It's still tough out there with the car, but it's been much nicer than it's been before," Hamilton said.
"I think we can get it into an even better place for tomorrow. So hopefully we can tackle the heels of the guys up ahead."
---