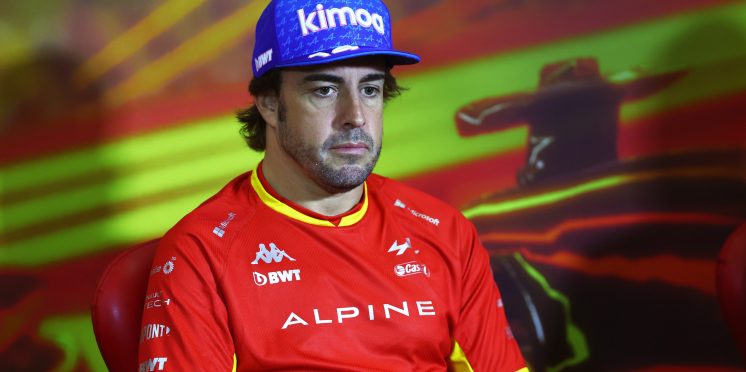 Alonso accuses FIA stewards of 'incompetence' over Miami GP penalty
Fernando Alonso has hit out at the FIA stewards over his post-race time penalty at the Miami Grand Prix, believing they acted with "incompetence" and were "not very professional".
Alonso finished eighth at the chequered flag but was classified in ninth place due to a five-second time penalty for colliding with Pierre Gasly, only to drop out of the points when he received another penalty for going off-track and gaining an advantage.
Alpine CEO Lauren Rossi admitted the decision was "difficult to accept" after the team felt it had evidence to show Alonso had given back the time he gained, but they were not granted permission to have their evidence heard.
Speaking about the incident ahead of this weekend's Spanish Grand Prix, Alonso was critical over how the stewards handled the matter.
"It was unfair," said Alonso, as quoted by The Race. "We believe that it was very unfair, and that it was just incompetence from the stewards.
"They were not very professional in Miami.
"I missed one corner and then I gave back the time but after you miss one corner there is the sector time just after that corner [cutting the chicane meant Alonso set the fastest middle sector of the race].
"They saw the pink colour [signifying the fastest sector on the timing screen] so they took the decision without asking for any proof.
"We arrived after the race with all the proof of giving the time back and they were just packing up, they were not even in the room.
"We came there, we showed them all the data, they found themselves with their hands tied because they issued already the penalty, and didn't know how to get back from that document.
"It was very bad. It's already the past but it is something that should not happen in Formula 1, with the professionalism and the standards that Formula 1 has right now."
Alonso's penalty meant the two-time world champion remains on two world championship points after the opening five races having failed to register a top-10 finish since the season opener in Bahrain.
---