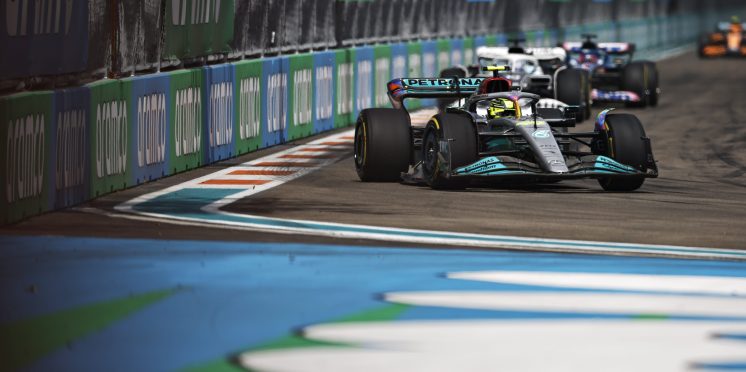 Hamilton 'didn't understand' Mercedes strategy in F1 Miami GP
Lewis Hamilton says he "didn't understand" why his Mercedes Formula 1 team left him to decide whether to pit under the safety car in Sunday's Miami Grand Prix.
Hamilton was running in the points-paying positions when the safety car was deployed on Lap 41 due to a collision between Pierre Gasly and Lando Norris.
This enabled Mercedes team-mate George Russell to make a long-awaited pitstop having ran a long first stint on hard tyres, allowing him leapfrog Hamilton.
The timing of safety car did not play into Hamilton's hands for a second time in three races, and left the seven-time world champion frustrated his race had been compromised.
"The strategy's not been kind to me, man," Hamilton said over team radio to race engineer Peter Bonnington.
This was followed by an exchange between Hamilton and Bonnington whether to follow Russell in for fresh tyres, but Hamilton, who didn't want to risk losing track position, insisted the team should make the call.
"You make the decision, don't make me make the decision," before Bonnington replied: "OK, stay out."
Asked about the discussion after the race and whether he could have pitted, Hamilton was perplexed why Mercedes left it to him to make the decision on strategy.
"Honestly, I really don't know. In that scenario I have no clue where everyone is," Hamilton said.
"So when the team say 'it is your choice' – I don't have the information to make the decision. That's what your job is, make the decision for me. You have all the details, and I don't.
"That's what you rely on the guys for. But today they gave it [the decision] to me and I didn't understand it.
"Was just a bit unfortunate under the Safety Car but like I said at least we got points. We're finishing, the reliability was good. I am excited at some stage to take a step forwards, which we haven't yet."
Hamilton eventually came home in sixth place behind Russell after a late battle between the pair following the race restart.
Hamilton was also heard complaining over suspected damage to his car after contact on the opening lap with Alpine's Fernando Alonso.
Although Mercedes reassured him the data showed that the car was unaffected by the minor clash, Hamilton was adamant he had sustained damage.
"The car definitely didn't feel the same as it did on the laps to the grid," Hamilton explained. "I am sure they will check it. It was quite a hard hit.
"I was doing the best that I could, was just unfortunate, but we got good points as a team. We take them and we move on."
---