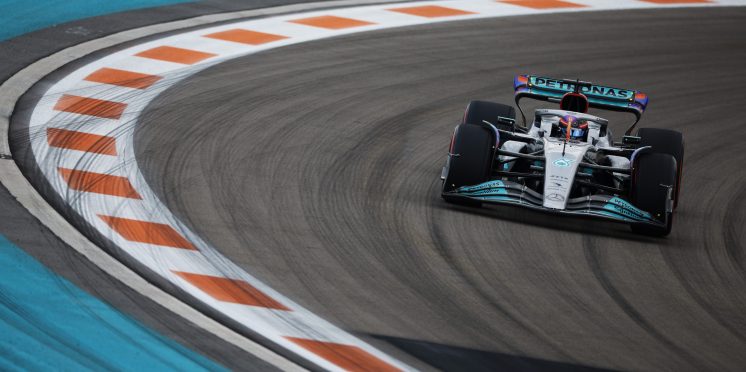 Russell: Mercedes 'don't understand' strong pace in Miami GP practice
George Russell says Mercedes "don't really understand" where its pace has come from after topping second practice in Miami, but remains cautious over its race chances.
Russell ended FP2 at the top of the timesheets, finishing just over a tenth of a second clear of Ferrari's Charles Leclerc.
It marks a return to form for the Brackley-based outfit who has endured a difficult start to the season amid its struggles to extract performance from the W13.
Mercedes has brought a series of upgrades on its front, rear and beam wings to Miami, but Russell is clear its pace in Friday practice doesn't assert it will be in contention for the remainder of this weekend.
"We don't really understand it to be honest, why we sort of hit the ground running," Russell said.
"The car is working well, but it's only Friday, not getting too carried away."
Mercedes suffered issues with tyre warm-up in Imola that led to both cars being knocked out in Q2 for the first time since Japan 2012.
But the warmer conditions in Miami has seemingly played into the team's hands, with the problem less of a factor.
"We always knew ahead of this weekend that the conditions should suit us better because we have been struggling a lot with tyre warm-up even in Bahrain where the track was really rough," Russell said.
"But this is the first real hot race of the season, so for sure that's played a big factor."
The new updates on Mercedes' 2022 car are mainly to address its ongoing porpoising problem that has curtailed its season so far, and while Russell conceded it felt no different to previous races, he can see the team's progress on-track.
"I think we know that it will always be there, but maybe it's working at a lower (ride-height) range compared to where we were previously," Russell said.
"But for sure on that high-fuel run I was feeling it and it didn't seem to be any better, but if we can manage to do that with the car lower to the ground then obviously we seek the rewards.
"But as I said, you generally have races that go in your favour, some races that go against you – I think Imola obviously wasn't a strong circuit for us but so far for what we see the car is working well around Miami."
---