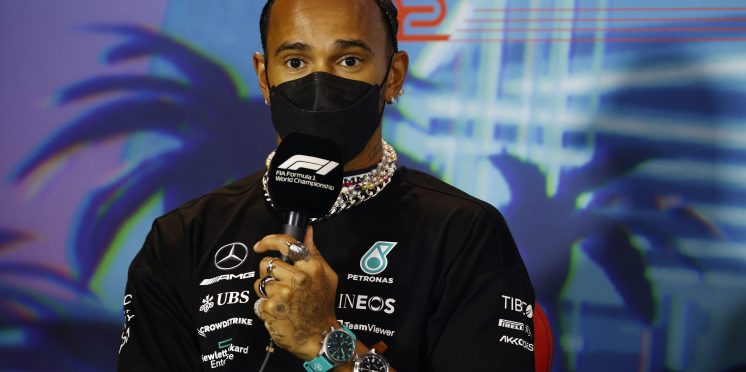 Hamilton: F1 risks'unnecessary spat' with clampdown on driver jewellery
Lewis Hamilton says the FIA's ongoing clampdown on Formula 1 drivers wearing jewellery whilst in the car could lead to an "unnecessary spat".
New F1 race director Niels Wittich recently reminded drivers at last month's Australian Grand Prix of the regulation that prohibits them from wearing jewellery in the car. Drivers were also informed in Melbourne that underwear, balaclavas, socks and gloves worn must be FIA homologated.
The rule around jewellery has been in place since 2005 but resurfaced this season, which has proved a bizarre decision for many.
Ahead of this weekend's Miami Grand Prix, the FIA issued a document revealing checks regarding jewellery and underwear would be included in scrutineering on the grounds of safety.
The FIA believes wearing jewellery underneath fireproof clothing can reduce protection and could increase the risk of burn injuries in the event of a fire.
Seven-time world champion Hamilton, who turned up to Friday's press conference in Miami with three watches and several rings on his fingers, said the move was "a step backwards" for the series.
"It's almost like a step backwards, if you think about the steps we're taking as a sport and the more important issues and causes we need to be focusing on." Hamilton said, as quoted by Motorsport.com.
"I think we've made such great strides as a sport… this is such a small thing."
Hamilton mentioned he has piercings in both ears and nose that are fixed, and acknowledged Mercedes may have to call on another driver to take his place should a standoff between drivers and the FIA occur.
He went on to add he would be happy to sign a waiver giving him clearance to continue wearing jewellery in the car to ease the FIA's safety concern.
Hamilton also revealed he had contacted FIA president Muhammed ben Sulayem in a bid to resolve the issue.
"It's about individuality and being who you are. I sent [Ben Sulayem] a message just reassuring him that I want to be an ally. I don't want to fight with you guys over this. This is very, very silly," he said.
---