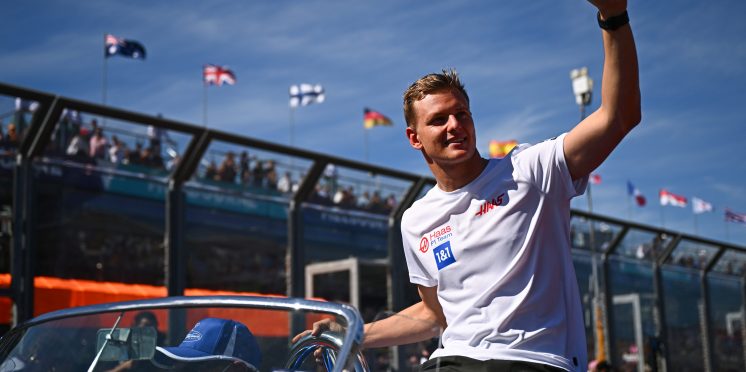 Schumacher unfazed by Sainz's new Ferrari F1 deal
Mick Schumacher believes Carlos Sainz's contract extension at Ferrari doesn't "really change much" for him, saying his current focus is delivering his "best" for the Haas Formula 1 team.
Leading up to the Emilia Romagna Grand Prix weekend, Ferrari announced Sainz had signed a new two-year deal that would keep him at Maranello until the end of 2024.
Sainz's renewal means Ferrari will have an unchanged driver line-up for the next three seasons, with team-mate Charles Leclerc already committed to the Italian outfit in the long-term.
Schumacher, who is a member of Ferrari's driver academy, is seen as the team's next protege – currently racing in his second season at Haas.
But while Sainz's fresh contract has put Schumacher's potential promotion to Ferrari on hold, the news didn't come as a shock to the German.
"I think it's the obvious step for Ferrari," Schumacher said, as quoted by Motorsport.com.
"They have two great drivers, and Carlos obviously had a great season last year and also had a pretty good few races this year.
"So yeah, it was clear. For me, it doesn't really change much as my job is to do my best here now.
"And that's with Haas right now."
Sainz's new deal had long been expected after Ferrari commenced talks with the Spaniard over the winter following an impressive first year at the Scuderia last year.
Ferrari boss Mattia Binotto was clear the team had no intention of replacing Sainz, believing a stable driver pairing was the right solution to avoid any distractions.
"Carlos did very well last year, he integrated into the team, he's a very strong driver," Binotto said.
"I think that for us, looking at the future, trying to create the right foundations, it was important to renew at that time of the season.
"So we know now from now the end of 2024, we can count on a fantastic line-up. And that's not any more a distraction for the team."
---