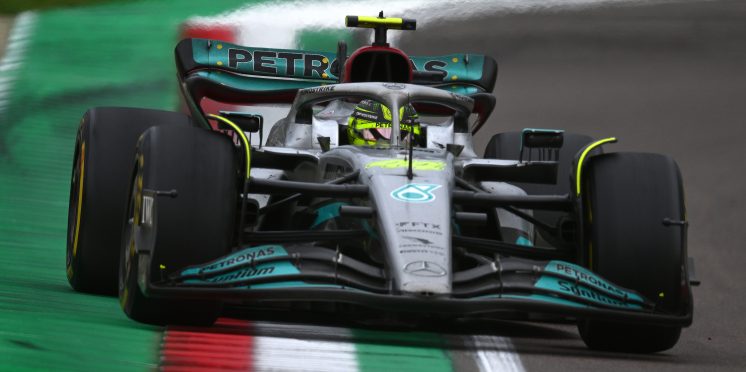 Mercedes eyeing Miami for F1 upgrades to solve porpoising
Mercedes is planning to introduce its first major upgrade package aimed at fixing its porpoising issues at Formula 1's Miami Grand Prix, hoping it will confirm if it is heading in the "right direction".
Off the back of losing the drivers' title to Red Bull at the final race of last season, Mercedes aimed to respond to its defeat at the start of F1's major regulations changes, only to have been held back by porpoising on its 2022 car.
The ongoing problem has forced the team to raise the ride height on the W13 that, in turn, has cost it downforce, but is confident that once it can get on top of the porpoising it can unlock the cars potential.
Mercedes is working hard to try and understand the matter further and hopes it can begin to make progress on-track by bringing developments to the next race in Miami.
Trackside engineering director Andrew Shovlin stressed the updates would not solve the Mercedes' issue "overnight", but will at least indicate whether it can begin to recover lost ground.
"We know where we are at the moment, we know that gap that we need to make up to get where we want to be, but as a team, we are very focussed on the engineering challenge that this is, and it is a very interesting engineering challenge," Shovlin said in the team's regular post-race analysis video.
"[These are] problems that are new to us, that we need to get on top of and understand and there is an enormous amount of energy back here going into that, but day by day we are moving forward, we are learning more about it and hopefully, soon, maybe as soon as Miami, we can start to bring some parts to the car that will hopefully give us an indication on whether we are moving in the right direction.
"We are not expecting to solve this overnight. But if we can get a clue that we are going in the right direction, that we really got to the bottom of what is going on, then we will be quite pleased that we are just moving on the right path."
Following the German manufacturer's difficult weekend in Imola where it failed to get both cars through to Q3 for the first time since Japan 2012, Mercedes boss Toto Wolff believed it needed to find a way to extract performance from the W13.
Asked to expand on Wolff's suggestions, Shovlin said: "It is obviously a bit of a cliché, but the reality is we can't run the car where we designed it to be run.
"We're having to run higher ride heights and by running higher ride heights, it's got less performance. Now, that might be true for almost every car on the grid as lots of people are suffering with this problem and we know that lifting the car is a way of alleviating it.
"A lot of the work that is going on in Brackley has been to understand the phenomenon and whether we can actually control it, whether we can engineer it out of the car and when Toto talks about finding the key what he is really talking about is, is there an aerodynamic solution that we can apply to the car that will make this problem go away?
"Now, being realistic we think this will be something we approach in steps rather than one big moment where the whole thing vanishes, but we are seeing encouraging signs. As I said, we are hoping to bring parts to the car soon, maybe even Miami where we can hopefully see progress on this issue."
Mercedes currently lies third in the constructors' championship after the opening four races of the season, with each of its drivers having stood on the podium once so far this year.
---