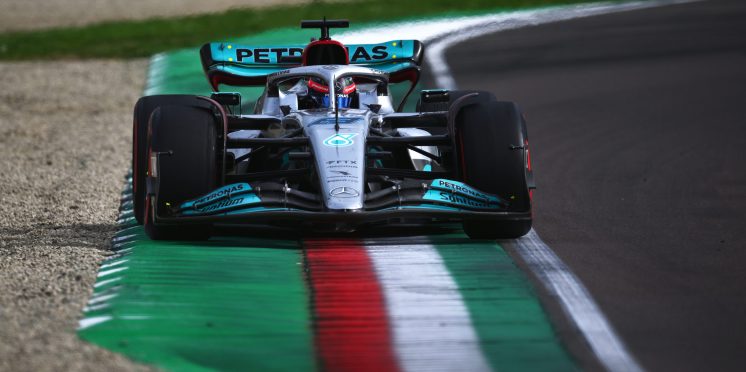 Russell refusing to get 'comfortable' ahead of Hamilton despite strong start
George Russell insists he's "not getting comfortable" ahead of Mercedes Formula 1 team-mate Lewis Hamilton despite outscoring the seven-time world champion at the last three races.
Russell salvaged a top-five finish on a difficult weekend for Mercedes at Imola, while Hamilton came home outside the points in 13th place having spent most of the afternoon stuck behind Pierre Gasly's AlphaTauri.
The result means Russell has finished fifth or higher in every race this season since joining Mercedes, and currently sits 21 points ahead of Hamilton in the drivers' championship.
But while Russell's strong start to his Mercedes career has seen him finish ahead of Hamilton at three successive races, he is clear the difference in results at Imola was nothing unordinary and backs his team-mate to "come back strong".
"I think it's just how things fall out sometimes in a race weekend," Russell said, as quoted by Motorsport.com.
"I made a very strong start. I don't know what happened with him [Lewis] at the start, but we are equally struggling, and when the car is so far out of bed, and it's not in the right window, it doesn't really feel like a proper racing car to drive.
"And especially we're struggling with the tyre warm-up. Friday was 13 degrees and it was just a nightmare to drive.
"I expect him to come back so strong, and the way he's pushing and motivating the team is inspiring.
"I'm not getting comfortable with this position, because I know what he's capable of."
Russell felt his three years at Williams driving uncompetitive machinery could explain why he is extracting more performance out of the W13 than Hamilton at the moment.
"It's just been a really difficult position for us as a team, and perhaps with my struggles at Williams driving very difficult cars, maybe that's helped in some small regard," Russell said.
"Q1 and Q2 for us now is massively important, whereas previously for Mercedes that was a breeze, it was almost like a build-up session getting ready for Q3.
"As I said, Lewis is going to come back incredibly strong, I have no doubt, and he's definitely going to push me all the way."
Despite the ongoing porpoising issues holding Mercedes back, Russell is confident that once the team gets on top of the problem it will be in a position to challenge for major honours.
"In terms of results we're definitely getting the most out of it and things have definitely fallen our way in these first four races," Russell said.
"It gives me and I'm sure it gives the team confidence that when the car improves, we'll be there to get even more points on the board.
"But as I said before this weekend, we can't sustain this level of these results if we don't improve the pace of the car."
---