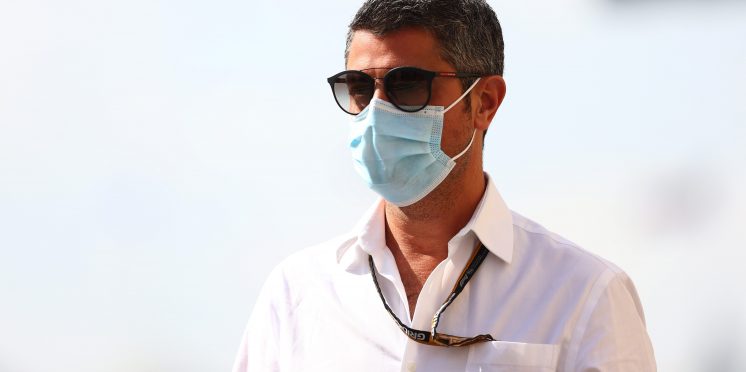 Brundle: Replacing Masi not the answer to F1's current issues
Ex-Formula 1 driver Martin Brundle believes sacking FIA race director Michael Masi will not solve the series' credibility concerns in the aftermath of last year's controversial Abu Dhabi Grand Prix.
The title showdown between Max Verstappen and Lewis Hamilton came to a dramatic conclusion, when the pair battled for the race lead on the final lap after Masi's questionable decision to only allow a handful of cars to overtake under the safety car.
It led to Mercedes lodging an appeal over the race result that saw Verstappen snatch the drivers' title from Hamilton on the last lap, but the team dropped its plea after the FIA announced it would conduct an internal review of its procedures.
F1's integrity has since come under fire following the last season's finale, with Hamilton having not publicly spoken since the event that has led to question marks surrounding his future.
The FIA issued a statement on Thursday stating it had begun its analysis on the final laps in Abu Dhabi regarding the usage of the safety car, with a verdict likely to be reached early next month.
Masi's handling of the safety car has led to calls for him to be removed as race director having succeeded the late Charlie Whiting since 2019, but Brundle insisted this was not the solution to the problems F1 is currently facing.
"What I absolutely know for sure is that changing Michael Masi will not fix the problem," said Sky Sports F1 pundit Brundle.
"This is way too big a job for one person to handle this in a 23-race season, it's only going to grow.
"Back in the day with 16-18 races for Charlie and Herbie [Blash, Whiting's assistant], Charlie used to start the race and Herbie was effectively the race director until Charlie got back from the starting rostrum down near the grid.
"They had it all under control, but it's just growing exponentially so Masi if he stays needs a lot of support around him and I suspect that's what they're looking at, at the moment.
"And who would actually want to step into his shoes right now?"
Fellow Sky F1 pundit and three-time grand prix winner Johnny Herbert felt while Masi wasn't worthy of continuing in his position, he pointed out the FIA has limited options to find a direct replacement.
"I think he's done too much damage to Formula 1," Herbert said. "The position that he's in, you've got to have trust, and I think that trust has completely and utterly evaporated.
"The problem is who do you replace him with? Because obviously experience is going to be very important for the man who slots into that position.
"Michael was very fortunate, he was underneath Charlie Whiting when Charlie was head of it and he learned a lot of good things from that point of view.
"Is there anybody that stands out for me at the moment to replace him? No. and that is the conundrum."
---