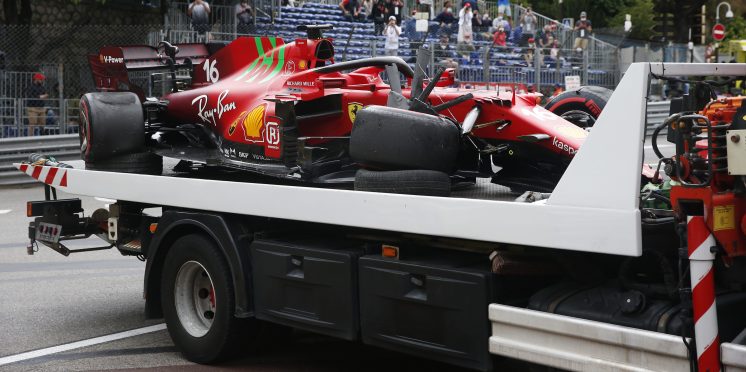 Ferrari: 'unlucky' Leclerc lost 40 points over 2021 season
Charles Leclerc would have finished higher in the Formula 1 world championship had he not lost 40 points due to bad luck, believes Ferrari team principal Mattia Binotto.
Leclerc finished seventh in the drivers' standings in his third season at Ferrari, just five-and-a-half points behind team-mate Carlos Sainz who finished two places higher.
But the Monegasque's points total could well have been bolstered had he not been "unlucky" according to Binotto, who highlighted two races that cost Leclerc dearly this season.
"We should not forget that in his season, there are a couple of examples, which is Monaco and Budapest, where he didn't score but I think he has been unlucky as a driver in those occasions," said Binotto, as quoted by RaceFans.
"Without that, it's difficult to say what he would have finished at the end of the race, but maybe at least 40 points missing on his classification. So without that again I think he would have been a lot further ahead in the championship."
At his home race in Monaco, Leclerc stuck his car on pole position after he crashed on his final lap in Q3, but failed to start the event when mechanical issues resulting from the incident reoccured on his way to the grid.
Leclerc also lost the chance to score a big haul of points at the Hungarian Grand Prix, in a race won by Alpine's Esteban Ocon, when he was taken out on the first lap by Lance Stroll.
Had Leclerc scored the 40 points missing from his tally, he would have finished fourth in the championship ahead of Red Bull's Sergio Perez. But Binotto still rates Leclerc's season highly, believing he is progressing as a driver in many areas.
"I'm very happy to see the progress he has made this season," Binotto said.
"He's always been very fast in the quali, even in the last part of the season where maybe Carlos was challenging him a bit more, he has always been very fast.
"That's why, again, I can only judge very positively his season. He has learned furthermore how to manage the tyres, how to manage the race situations and the race pace. So I'm quite pleased on the progress he made."
---