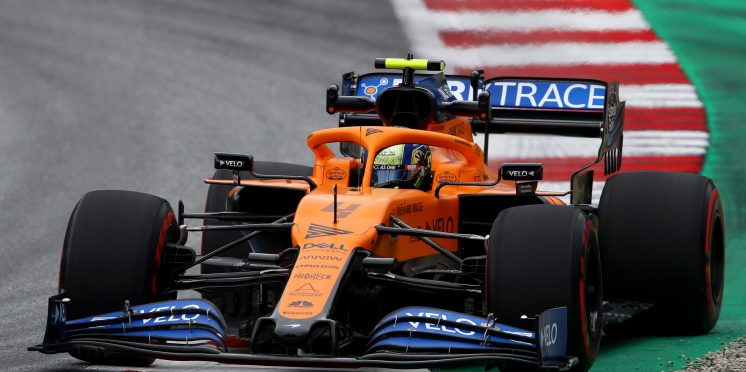 Norris: We Never Expected To Beat Racing Point
Lando Norris has admitted that he never thought McLaren would be within a chance of beating Racing Point during qualifying for this weekend's Austrian Grand Prix.
Norris qualified in fourth place ahead of former Formula 2 rival Alex Albon, his team-mate Carlos Sainz and both Racing Point cars of Lance Stroll and Sergio Perez.
Following qualifying Norris revealed that he was surprised to be ahead of the Racing Point cars due to their impressive pace in free practice.
"We have our expectations of where we would thought we would be and from the beginning the Racing Points have been extremely quick." Norris told Sky Sports F1.
"We never thought we would be within a chance of beating them or getting close to them but as you enter lower fuel and into qualifying the car started to come alive and you feel much better".
The British driver is also wary of threats from the cars behind him for the race on Sunday, at a circuit he registered a sixth place finish last year.
"As much as I'll be looking ahead in the race and trying to go forward I think there is a lot of cars behind us, Ferrari especially," he said.
Their race pace is very strong. For some reason, their quali pace is a long way off. But so is the Racing Points, you know.
They have a good car. They have a lot of downforce. I think they can look after their tyres slightly better than us so it's gonna be a difficult job. But if I can stay around where I am then I'll be happy".
---