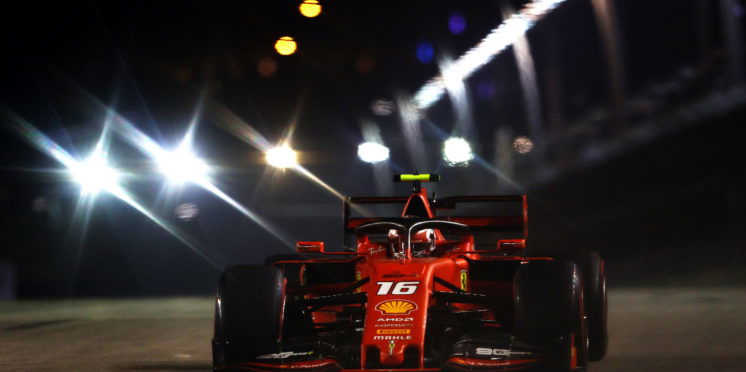 Leclerc Clinches Third Consecutive Pole Position At Singapore GP
Under the street lights of the Marina Bay Circuit Charles Leclerc claims his third successive pole position for the Singapore Grand Prix ahead of Mercedes' Lewis Hamilton.
Mercedes opted to start its Q1 runs on the medium tyres whilst the other 19 drivers went for the softer tyres for optimum grip levels. The teams' first laps saw the Silver Arrows six-tenths off Charles Leclerc time of a 1:30.014 on the soft tyres.
Vettel closed to three-tenths behind his team-mate in second place, followed by Verstappen and the two Mercedes drivers to round out the top five.
Elsewhere, there was brief drama for McLaren as Sainz reported a loss of power over the radio on his out-lap. The issue appeared to have been resolved as Sainz went on to complete his flying lap and made it safely out of Q1.
Whilst the top three stayed in the garage in the final stages of Q1, seemingly comfortable that they are safely into Q2, Mercedes did not feel comfortable with its lap times on the medium tyres and returned back on to the track.
Now on the soft tyres, Bottas and Hamilton completed their lap to finish first and second respectively in the session.
Williams had a tough final Q1 run as Russell made an error on his final run when he went off the track in Turn 7, whilst Kubica didn't even get a final lap in as he failed to make it to the chequered flag in time.
The Williams drivers joined Kvyat, Stroll, Grosjean as the drivers eliminated from Q1.
The top three teams looked very competitive on their first Q2 runs, with the top five all within three-tenths of each other.
Ferrari was quickest in the first sector, whilst Verstappen was fastest in the middle sector and Mercedes were strongest in the final sector.
Norris had an impressive first lap in Q2 with the sixth quickest time ahead of Sainz in eighth, who was six-tenths down on his rookie team-mate.
Raikkonen made contact with the wall at Turn 14, but it appeared no damage had been done to and he returned to the garage for the team to look over the car.
The Ferrari drivers of Leclerc and Vettel went quickest in Q2, with seven hundredths separating them. Mercedes were third and fifth with Hamilton and Bottas whilst Red Bull were fourth and seventh.
McLaren and Renault completed the top 10 with both drivers from their respective teams making it into Q3.
Perez, Giovinazzi, Gasly, Raikkonen and Magnussen were eliminated in Q2.
With Perez's five-place penalty for a gearbox change after his contact with the wall in FP3, the Mexican will start in 16th, meaning the other four drivers eliminated from Q2 alongside Kvyat will move up a place for the race on Sunday.
The closeness of the top three teams made for an unpredictable Q3 as to who would ultimately take pole position.
Vettel unleashed his pace in Q3 as his first flying lap saw him taking provisional pole with a 1:36.437, despite a moment on the exit of Turn 19, three-tenths clear of his team-mate Leclerc as well as Verstappen in fifth.
Mercedes had a difficult first lap with Hamilton and Bottas a second down on Vettel's time as they settled into fourth and fifth.
Replays showed both cars having a poor lap, with Hamilton telling his team about a lack of front-end grip as he slid out of Turn 7.
Vettel abandoned his final flying lap as he failed to improve on his fastest lap, so all eyes were on the rest of the pack to see how much they would improve.
Much to the dismay of the German, Leclerc improved enough to take pole position with a 1:36.217, two-tenths ahead his team-mate.
Hamilton too eclipsed Vettel's lap time to sneak onto the front row, pushing the four-time world champion down to third place.
Verstappen finished fourth ahead of Bottas and Albon to round out the top six.
Elsewhere, Sainz was able to qualify in seventh ahead of the Renault's of Ricciardo and Hulkenberg, with Norris rounding out the top 10 for the race on Sunday.
---