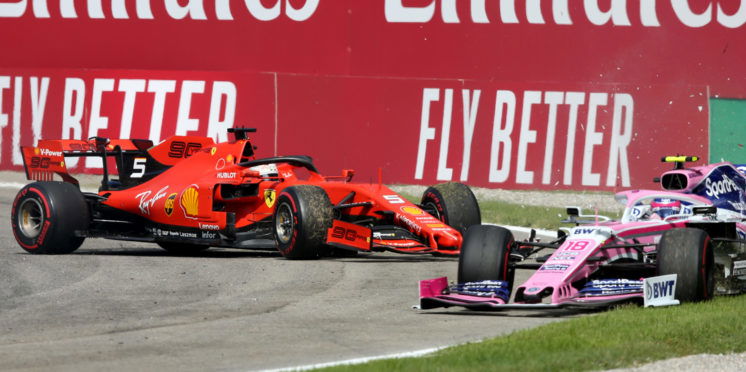 Vettel edges closer to race ban after Italian GP incident
Sebastian Vettel is just one serious incident away from a race ban after "dangerously" re-joining the circuit in front of Lance Stroll during the Italian Grand Prix.
Running fourth at the time in his Ferrari, Vettel made a mistake and spun at the Ascari chicane. With the chasing pack close by, Vettel kept the rear tyres spinning, re-entering the track right in front of the Stroll's Racing Point.
Meandering across the track against the traffic, Vettel clipped the rear of the Stroll's car causing the Canadian to spin.
The incident was investigated by the stewards and gave Vettel a 10-second stop/go penalty, the most severe sanction it can award a driver during a race before a black flag.
They also gave the German three penalty points, which leaves him on nine until the Japanese Grand Prix in October. Once a driver accumulates 12 points in a calendar year they automatically receive a one-race ban.
Speaking after the race, Vettel told Sky Sports. "Not that much to talk through. I lost the rear going in and then lost it even more. I had a couple of snaps the lap before, but I could catch it.
"I struggled a couple of times to get the car going and struggled to get in the right direction, so I couldn't see him.
"It came it bit by surprise but obviously it's my mistake."
Vettel rebuffed suggestions that he has fallen out of love with the sport after throwing away more valuable points.
"I haven't, so of course I still love what I do. But surely when you are not doing well, you know you can do well, then you can't be happy."
---