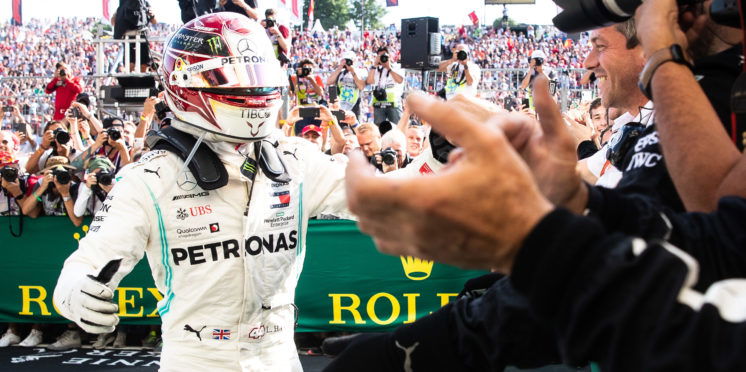 Hamilton beats Verstappen to win Hungarian GP
Lewis Hamilton extended his lead in the Formula 1 drivers' championship with a Hungarian Grand Prix victory after prevailing in a thrilling race-long duel with Max Verstappen.
Verstappen, who clinched his first career pole position, led for the majority of the race until Hamilton opted to switch to a two-stop late on to change the complexion of the race.
Hamilton had challenged Verstappen for the lead shortly after what was forecast to be their one and only pitstop cycle, threatening to pass on the outside of Turn 4 but running onto the run-off area.
Settling back into second place and with over half a second of margin to the Ferrari of Charles Leclerc in third, Mercedes rolled the dice on strategy and opted to pit Hamilton for a second time.
Having switched from the hard tyre to fresh medium rubber, Hamilton emerged 20 seconds adrift of Verstappen and began to close in on the Dutchman with 21 laps of the 70-lap race remaining.
Catching at a rate of 1.5s per lap, Hamilton closed up into striking distance of the Red Bull with five laps to go and with Verstappen's tyres at the end of their life, Hamilton cruised passed and into the lead.
Verstappen subsequently made a free pitstop to fit soft tyres and scoop the fastest lap bonus point en route to closing out second place.
Sebastian Vettel used his own contra-strategy to climb to the final step of the podium ahead of team-mate Leclerc.
Having extended his opening stint, Vettel pitted for soft tyres in an attempt to chase down Leclerc in the closing stages.
Catching his team-mate with two laps remaining, Vettel dived to the inside of a defensive Leclerc at Turn 1 to seize third place.
Leclerc was fortunate to avoid a puncture on the opening lap of the race after making contact with Valtteri Bottas en route to Turn 4.
Bottas locked up into the first corner at the start when running wheel-to-wheel with Hamilton. Repeating the mistake at Turn 2 – allowing Hamilton to squeeze through into second – Bottas lost momentum on the uphill run to Turn 4.
It allowed Leclerc to pull alongside the Mercedes. The Ferrari pinched Bottas and clipped his left-hand front-wing endfence, causing damage and forcing Bottas to make an early stop on lap six.
Bottas spent the rest of the race bottled up in traffic and on a two stop strategy en route to eighth.
Carlos Sainz Jr ended up fifth for McLaren, while team-mate Lando Norris lost time after a slow pitstop dropped him into a battle with Daniel Ricciardo who was running a long opening stint on the hard tyre. Norris ended up ninth.
Pierre Gasly challenged Sainz in the closing stages but finished in sixth. He had slipped to ninth on the opening lap after a sluggish start.
Kimi Raikkonen secured more points for Alfa Romeo in seventh place.
Alexander Albon entertained with a wheel-to-wheel dice with team-mate Daniil Kvyat early on as the two battled through the first four corners at mid-distance. Albon would eventually round out the points in 10th.
---