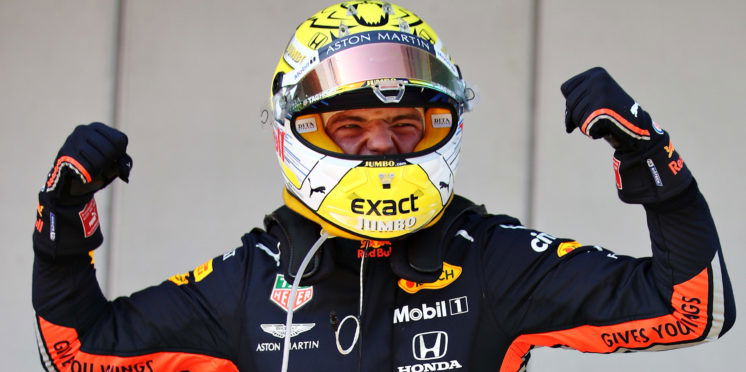 Verstappen beats Leclerc in thrilling Austrian GP
Red Bull's Max Verstappen battled passed Ferrari's Charles Leclerc in the closing stages, seizing an unlikely Austrian Grand Prix victory after having slipped to eighth at the start.
But Verstappen ended the race under investigation for his victory-clinching pass on Leclerc, after banging wheels with the Ferrari at Turn 3 and forcing the polesitter wide and onto the run-off.
Leclerc had controlled the grand prix from the start, pulling out a two second advantage early on and managing his lead throughout the opening stint.
Despite starting in second, Verstappen initially slipped back to eighth place after his car dropped into anti-stall off the line.
As a result, it was Valtteri Bottas' Mercedes who was tasked with chasing Leclerc throughout the majority of the race albeit gradually slipping further adrift on account of temperature management.
Verstappen battled back to fourth place after his pitstop and began to rapidly close the gap to Sebastian Vettel's Ferrari and Bottas ahead.
With 21 laps of the 70 remaining, Verstappen passed Vettel on his third attempt following a stern defence from the four-time champion.
The Red Bull driver quickly overhauled Bottas, clinically passing the Mercedes on the inside at Turn 3 with 15 laps remaining.
With 10 lap fresher tyres, he caught Leclerc – who was searching for his first Formula 1 win – with a handful of laps remaining.
After Leclerc successfully defended on the outside line at Turn 3 with four laps remaining, Verstappen mounted a second assault just one lap later.
Diving to the inside, Verstappen ran deep into the corner and while Leclerc attempted to hang onto the position of the outside once again, Verstappen bumped the Ferrari wide.
Verstappen seized a second consecutive Austrian GP victory, and a first win for a Honda-powered car since 2006. Leclerc had to settle for second.
Bottas clinched third, despite ending up just 0.6s clear of Vettel at the chequered flag.
The Ferrari driver, who started ninth after failing to set a time in Q3, used a two stop strategy to catch and pass Hamilton with two laps to go.
Hamilton was running third during the first stint but had to change his front wing at his one and only pitstop after picking up damage similar to what his car sustained in first practice on Friday.
Losing 11 seconds at the stop, Hamilton did have fresher tyres at the end of the race compared with his team-mate Bottas after pitting eight laps later.
It is the first time this season that championship leader Hamilton has not finished a race in the top two.
---