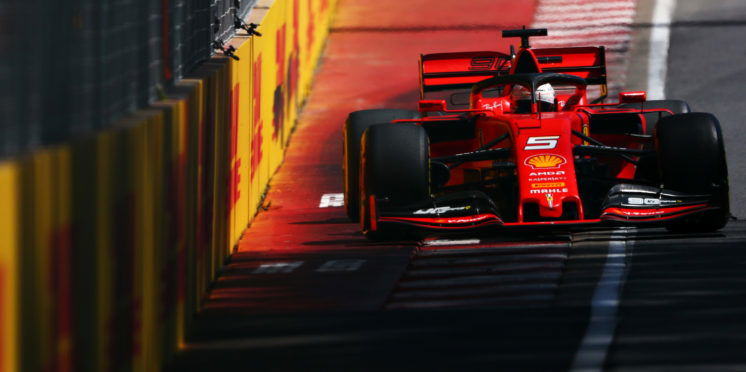 Vettel snatches Canadian GP pole from Hamilton
Ferrari's Sebastian Vettel clinched his first pole of the 2019 Formula 1 season, narrowly beating championship leader Lewis Hamilton in qualifying for the Canadian Grand Prix.
Charles Leclerc rounded out the top three ahead of Daniel Ricciardo, who qualified in fourth to seal Renault's best qualifying result since returning to F1 as a manufacturer team.
In the battle for pole, Hamilton seized the advantage after the first runs in Q3, posting a 1m10.493s benchmark to beat Vettel by 0.1s.
Hamilton marginally improved on his second and final lap. However, Vettel propelled his Ferrari to a 1m10.246s time to clinch his first pole since the 2018 German Grand Prix.
His team-mate Leclerc was 0.680s adrift in third place despite shaving time off of his first effort in his final lap to demote Ricciardo, who had seized a provisional third after climbing to within 0.9s of pole.
While Valtteri Bottas had demonstrated top three potential throughout Q1 and Q2, he ended up in sixth.
Spinning under traction at the exit of Turn 2 on his first lap in Q3, Bottas was left with just one attempt at the end of the session.
After a preparation lap compromised by traffic, Bottas made several mistakes on his hotlap including lock-ups at Turn 4 and Turn 10.
He did slot into fifth before Red Bull's Pierre Gasly elevated himself above Bottas on his last attempt.
Gasly was the only Red Bull in Q3. Max Verstappen's qualifying ended in Q2, with the Dutchman marooned in 11th place when a red flag was deployed at the end of the session.
Haas' Kevin Magnussen hit the Wall of Champions, damaging his suspension and spinning across the track before slamming into the pitwall. The resultant red flag ended Verstappen's final run prematurely.
Having failed to post a competitive time on the medium tyre during his first run, Verstappen needed the final lap on the soft rubber in order to climb out of the danger zone.
Nico Hulkenberg ensured that Renault fielded two cars in the top seven, as he qualified ahead of the McLaren duo of Lando Norris and Carlos Sainz Jr.
Despite his accident, Magnussen qualified in 10th but may face a five-place grid drop if his car requires a fresh gearbox during the rebuild.
Both Racing Point drivers dropped out of qualifying at the Q1 stage, with Sergio Perez locking up at Turn 10 en route to 16th. His team-mate Lance Stroll, propelled by the old-spec Mercedes engine after his FP3 powerunit failure, was 18th.
Kimi Raikkonen was outqualified by his Alfa Romeo team-mate Antonio Giovinazzi. Raikkonen was 17th and a casualty of Q1, while Giovinazzi was 13th.
---