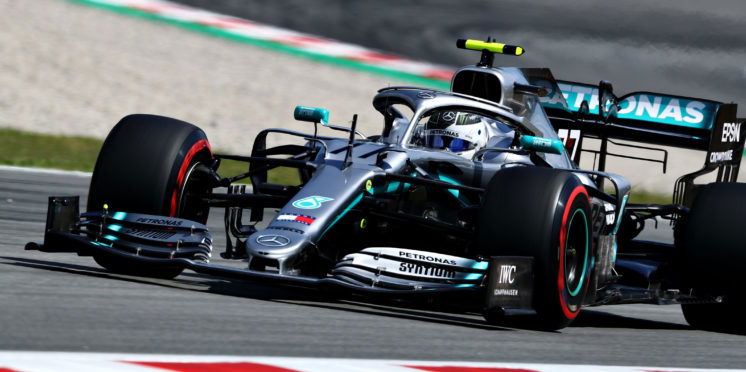 Bottas fastest again, leads Mercedes one-two in FP2
Mercedes finished one-two in second practice ahead of the Spanish Grand Prix, with FP1 pacesetter and Formula 1 championship leader Valtteri Bottas ahead of Lewis Hamilton.
After topping the timesheet with his medium tyre run early in the session, Bottas was provisionally knocked down to third place after the Ferrari pair vaulted ahead on account of completing their soft tyre qualifying simulations first.
On the soft tyre, Bottas failed to improve on his first sector time before recording a session best third sector en route to a timesheet topping 1m17.284s.
With the tyres holding on for a second timed attempt, Bottas then improved in the first sector but eventually slipped to 0.17s adrift of his own best. His first lap was good enough to stay top of the times for the second session of the day.
Team-mate Hamilton had struggled early on, opting to complete a roll bar change in an attempt to correct rear instability on the hard compound tyre.
Emerging from the pits on the soft tyre, Hamilton closed to within 0.049s of Bottas' benchmark.
Both Mercedes were comfortably clear of the Ferraris, with Charles Leclerc beating Sebastian Vettel to third place, albeit 0.301s off the pace.
Haas's threat to Red Bull continues to build this weekend, as Romain Grosjean split the Red Bull duo of Max Verstappen and Pierre Gasly, who finished fifth and seventh respectively.
Grosjean's team-mate Kevin Magnussen's best time was set on his second timed effort, as he hit traffic on his first lap when he encountered a slow moving Leclerc at the high-speed Turn 9.
Carlos Sainz Jr continued to set the pace for McLaren, finishing the session in ninth place and nearly 0.4s clear of his team-mate Lando Norris in 16th.
Daniil Kvyat was another driver to occupy the top 10 in both FP1 and FP2, as the Russian ended the second session in 10th place.
Despite the amount of mileage drivers notch up at the Circuit de Barcelona, Kvyat was one of a number to suffer off-track moments during the session as he lost the rear of his Toro Rosso at Turn 1 and ran onto the gravel.
Alfa Romeo's Kimi Raikkonen, who finished the session in 11th, ran wide and onto the gravel at Turn 7, while Grosjean did the same to repeat his excursion suffered in FP1.
Williams driver Robert Kubica spun at the final corner, hitting the bollard at the pitlane entry in the process but avoiding the wall.
Following his crash in FP1, Lance Stroll returned to the track for a comparatively uneventful FP2 as he finished the day in 13th place.
Team-mate Sergio Perez likely carried out an alternative programme en route to an anonymous 18th.
---