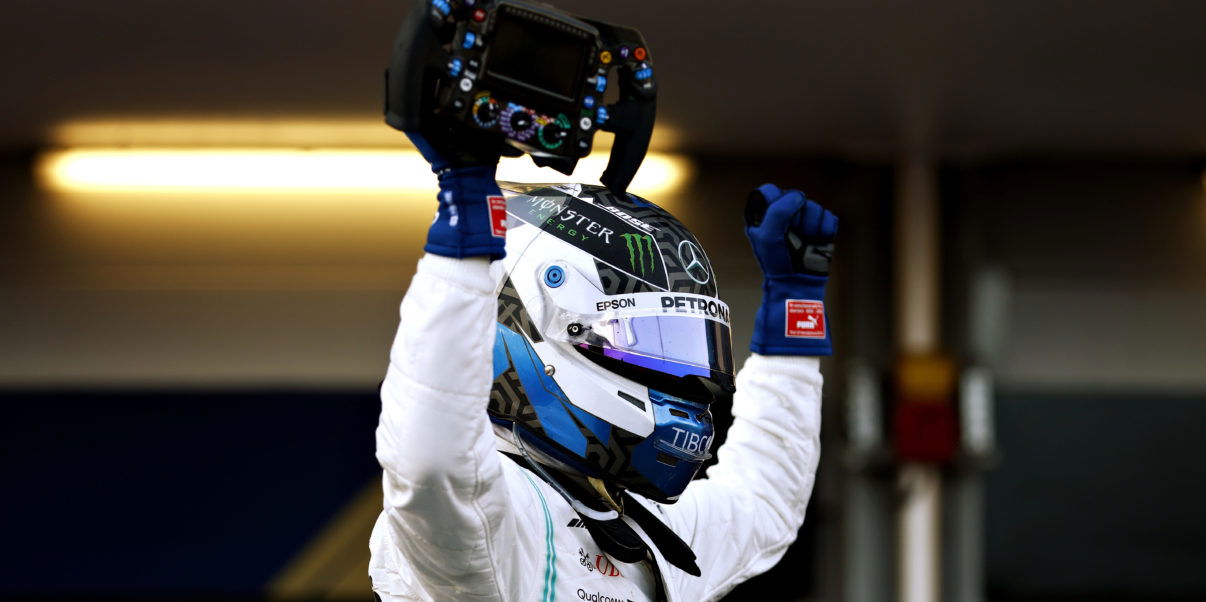 Bottas wins in Azerbaijan, Mercedes earns record breaking one-two
Valtteri Bottas edged team-mate Lewis Hamilton to take victory and the Formula 1 championship lead at the Azerbaijan Grand Prix, as Mercedes sealed a fourth consecutive one-two finish.
Mercedes has become the first team in history to open a season with four one-twos, with Bottas becoming the first driver to win from pole in 2019.
Successfully fending off Hamilton as the two ran side by side through the first two corners, Bottas was able to keep his team-mate at arms length throughout the majority of the race.
Hamilton did manage to close up in the closing stages, edging to within DRS range late on.
However, the reigning champions' challenge to extinguished when he ran wide at Turn 16 on the penultimate lap, losing half a second and affording Bottas breathing space for the final tour.
At mid-distance, Ferrari's Charles Leclerc posed an unlikely threat to Mercedes' control at the front.
Leclerc, who started in eighth after a crash in qualifying, ran the medium compound tyre in the opening stint.
Cycling to the lead on lap 13 of 51, Leclerc stretched his opening stint until lap 34. However, emerging from his pitstop nearly 30 seconds adrift of Bottas in fifth, the margin to the front was insurmountable.
Instead of recovering ground on the leaders, Leclerc made an extra pitstop in the closing laps in order to steal the fastest lap bonus point from Bottas.
Leclerc's team-mate Sebastian Vettel ended up third, while Red Bull's Max Verstappen spent the majority of the second half of the race shaving into Vettel's advantage.
Verstappen's charge was stunted when his team-mate Pierre Gasly stopped with a gearbox issue and triggered a virtual safety car. Verstappen struggled to switch his tyres back on at the green flag and failed to threaten Vettel's podium late on.
Two-time Azerbaijan podium visitor Sergio Perez was best of the rest in sixth. He battled passed Verstappen on the opening lap to run fourth early on.
Perez beat the McLaren duo, with Carlos Sainz Jr ending up seventh and Lando Norris finishing eighth. Norris made a second stop during the virtual safety car, losing track position to Sainz.
Lance Stroll finished ninth, ahead of Alfa Romeo's Kimi Raikkonen who secured a fourth consecutive points' finish despite starting from the pitlane.
For the third time this season, Daniel Ricciardo failed to finish a race. Attempting a pass on his former team-mate Daniil Kvyat's Toro Rosso, he dived to the inside at Turn 3 but missed the corner and sent both cars into the run-off area.
Ricciardo failed to notice Kvyat behind and reversed into the stationary Toro Rosso. Both cars retired shortly after the incident and a stewards inquiry follows the race.
---