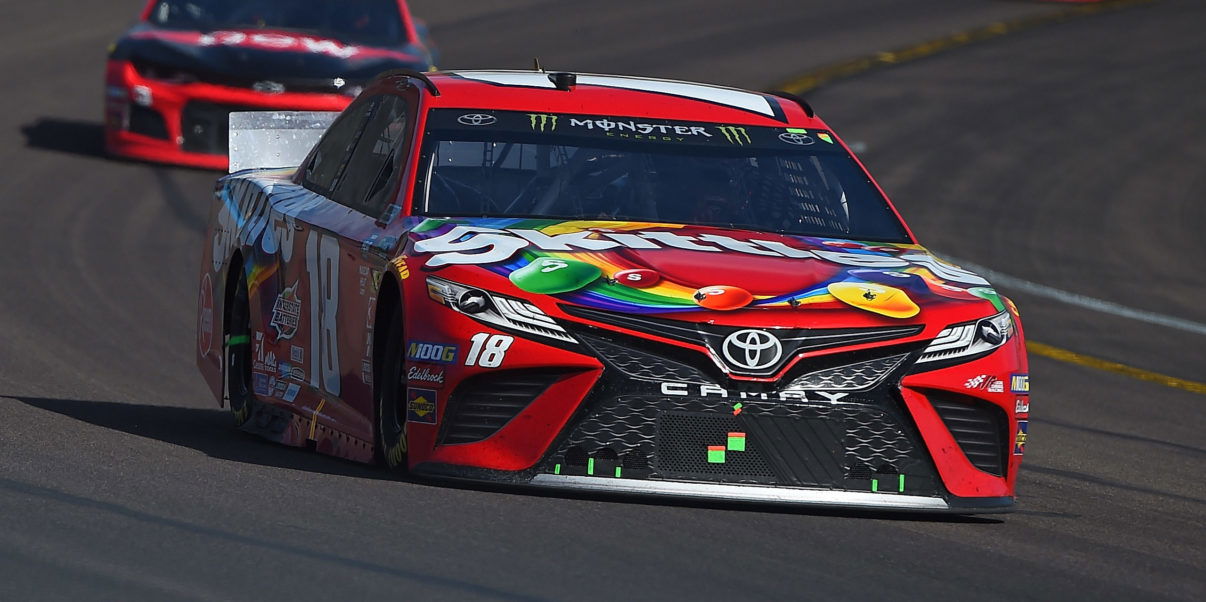 Kyle Busch wins at Phoenix, Truex charges to second
Kyle Busch earned his first NASCAR Cup Series victory of the 2019 season at Phoenix with a dominant drive, ahead of Joe Gibbs Racing team-mate Martin Truex Jr.
Busch led 177 laps en route to victory. After winning the second stage, he lost track position mid-way though the final stage having opted to take four tyres at the final pitstop while the majority of his rivals opted for two.
Dropping to eighth, Busch gradually climbed back through the field. In the closing stages, he edged towards race leader and polesitter Ryan Blaney, who was having to heavily manage fuel reserves.
With 15 laps to go, Busch worked his way passed the Penske driver to re-take the lead.
Busch's first win of 2019 follows three consecutive top 10 finishes in the first three races of the season. His third career Cup win at Pheonix means that he sweeps the weekend, having won Saturday's Xfinity series race.
Blaney, who won the opening stage after Busch opted to make a pitstop late-on, was pipped to second place by a charging Truex.
The JGR driver was one of the fastest cars during long-runs in practice and was once again fast during extended green flag periods in the race.
Picking up speed in the final 50 laps, Truex managed to rise from the periphery of the top 10 to a second place finish. Blaney had to settle for third.
Despite having never led a lap at Phoenix prior to Sunday's race, Aric Almirola spent 26 laps at the front of the field before finishing in fourth.
He was the highest placed Stewart-Haas Racing driver. Team-mate Kevin Harvick, who has nine career Cup victories at Phoenix and had won four of the last five races, did not lead a single lap.
Harvick pitted out of sequence with the field, opting to take four tyres when he was one of only four drivers to pit at the final caution on lap 234 of 312. Emerging in 21st, his rubber advantage only propelled him to a ninth place finish.
Fellow SHR runner Clint Bowyer finished a comfortable second in stage two but faded out of contention as he followed Harvick's strategy and ended up 11th.
Denny Hamlin inherited fifth when Austin Dillon ran out of fuel with three laps remaining.
Chip Ganassi Racing team-mates Kyle Larson and Kurt Busch battled throughout the closing stages en route to sixth and seventh respectively.
Hendrick Motorsports' Chase Elliott endured an eventful race. Starting second, Elliott beat Blaney to the line at the start of the race and was subsequently handed a drivethrough penalty for breaching procedures.
Elliott was later one of a number of drivers to suffer tyre issues, as he spun out of ninth place to trigger one of the race's nine cautions. He recovered to 14th
Penske's Brad Keselowski and JGR's Erik Jones both suffered more dramatic tyre issues which sent them into the wall. Alex Bowman twice hit the wall in his #88 Chevrolet with separate front-right tyre problems.
---