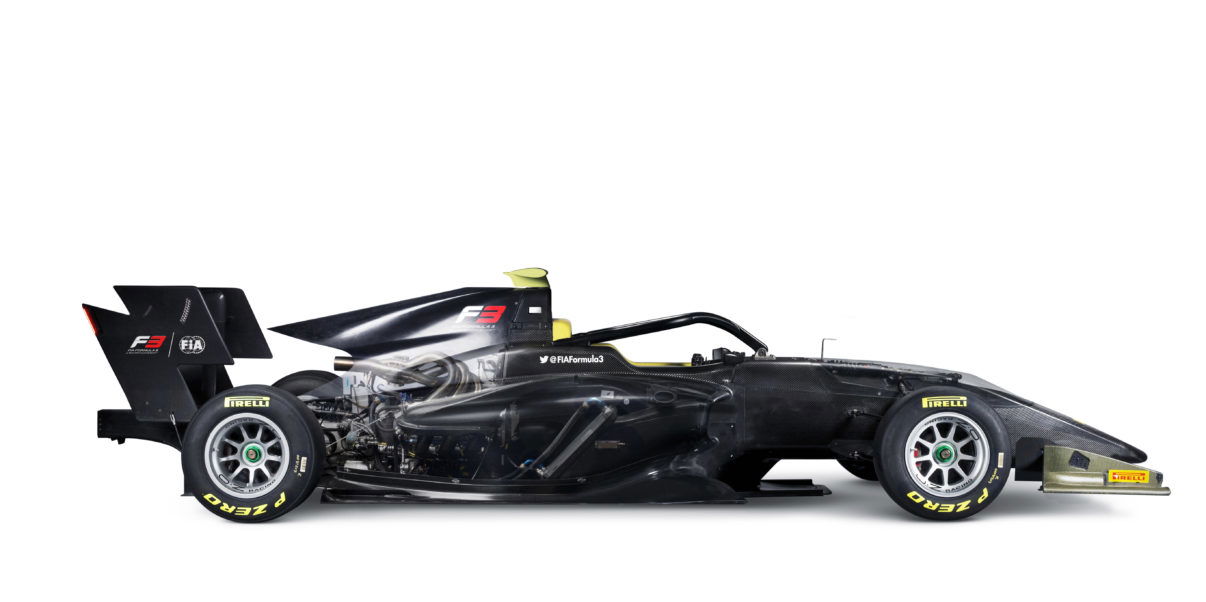 New FIA Formula 3 car revealed in Abu Dhabi
The car that will be used in the first three seasons of the new FIA Formula 3 championship from 2019 to 2021 has been revealed in Abu Dhabi ahead of GP3's final race weekend.
Formula 3, that replaces GP3 after nine seasons of the series, brings the majority of the junior motorsport ladder under one name from regional F4 to F1, following such changes as GP2 to F2 in 2017.
The F3 2019 car appears similar to the current GP3/16 chassis, with both supplied by Dallara, with noticeable changes including a more aggressive slanted rear wing and the adoption of the Halo head protection system used in other categories for driver protection.
This will also be powered by Mecachrome, with a 3.4-litre six-cylinder engine providing drivers 380 horsepower at 8000rpm, 20 less than the current machine.
It should reach a top speed of 186.4mph, a difference of 2.8 from the 2016-spec car.
Other features include a sequential gearbox, electro-hydraulic gear-shift system, DRS, and the Virtual Safety Car system already in use by GP3, and three different tyre types provided by Pirelli.
"Our focus was to provide a safe and challenging car which will enable close racing and encourage overtaking," F2 CEO Bruno Michel said.
"When designing this car, we also kept in mind cost-effectiveness in order to limit operational costs for the teams, but also deliver an attractive package.
"I am very confident that this car which matches the FIA F3 2019 safety standards will deliver great racing and provide the fans with high-quality entertainment.
"It is the perfect tool for young drivers to make their way up the motorsport ladder with the goal to graduate to F2 and ultimately, hopefully, race in F1."
This chassis was driven at Magny-Cours last month, completing 165 laps over a two-week period, with further tests scheduled for December.
Each of the 10 teams entering the category – ART, Campos, Carlin, Charouz, Hitech, HWA, Jenzer, MP, Prema and Trident – is set to receive one car in January 2019 before receiving another two one month later, with a shakedown planned before pre-season testing.
---