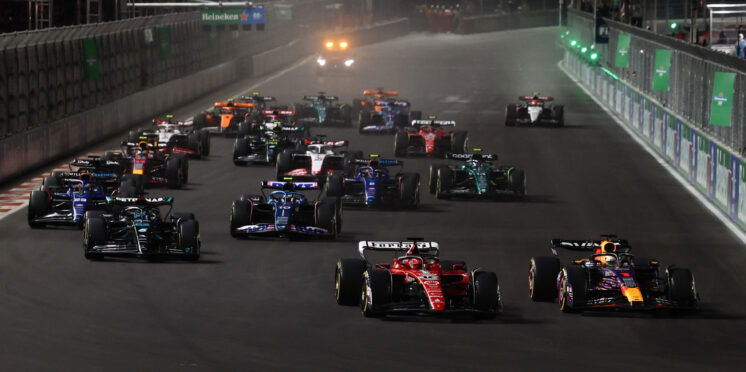 Horner: F1 must change 'brutal' Las Vegas GP schedule
Christian Horner has led calls from Formula 1 team bosses for the Las Vegas Grand Prix schedule to change next year after a "brutal" weekend for team personnel.
F1's first race in Las Vegas for over 40 years ran on a timetable designed to ease interruptions and be suitable for Europeans fans.
Second practice and qualifying were scheduled to take place at midnight with the race starting at 10pm local time, although FP2 was delayed until 2:30pm after track workers finished securing manhole covers around the circuit.
To make matters worse for team members, Las Vegas runs back-to-back with this weekend's season finale in Abu Dhabi, resulting in a 12-hour time shift.
There is concern that if the event follows a similar schedule next year it will be an even bigger challenge and push all F1 personnel beyond breaking point.
"As a first off, of course, there are going to be many lessons to learn," said Red Bull boss Horner, as quoted by Motorsport.com. "One of the things to look at is the running schedule because it has been brutal for the team and all the men and women behind the scenes.
"Everybody is leaving Vegas slightly f***ed! One way or another it has been a brutal weekend for everyone behind the scenes, and I think we need to look at how we can improve that for the future."
Horner suggested that minor changes to the weekend timetable would be enough to make a difference, even if it meant an earlier race start in Europe.
"I think run it a little earlier in the evening because you are never going to keep every television audience totally happy," he said.
"This is an American race. If you run it 8pm in the evening or something like that it would just be a bit more comfortable for the men and women working behind the scenes."
Ferrari team principal Fred Vasseur acknowledged F1's recent growth worldwide meant it was now having to adjust to accommodating fans from all continents.
"If we have to improve, it's perhaps the timing," Vasseur said. "It's not an easy one to find, if you want to have a decent timing for Asia, Europe, East Coast, West Coast.
"In the past, we had no issue because F1 was just for the European people, and we had to stick to the European timing, and it was okay.
"Now it's a worldwide project, and it's much more difficult to find something fitting with the expectations of the 24-hour zone. But we will adjust it."
Aston Martin team boss Mike Krack felt F1 should not be too hasty in making alterations and should instead take time to assess the situation.
"We should not shoot too quickly now, out of the emotion, out of the tiredness," he said. "I think it's important we step back.
"The sporting regulations are quite rigid in terms of timing, they calculate everything from the race, from different sessions. So you would need to change that.
"But I think it's possible to incorporate what the race promotion needs, and what the workforce needs. It just needs a bit of work."
---