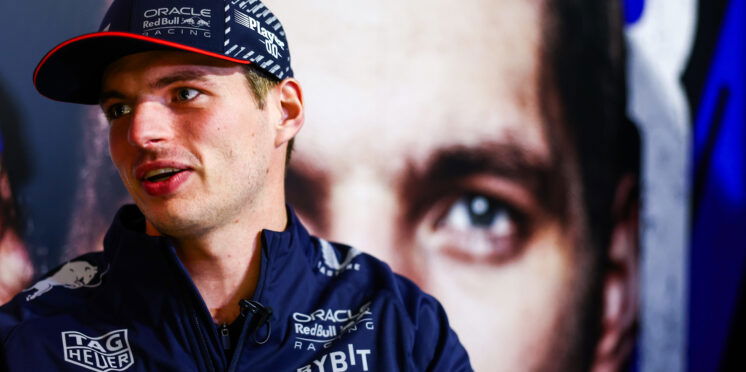 Verstappen: Las Vegas GP '99% show, 1% sporting event'
Max Verstappen claims the Las Vegas Grand Prix is "99% show and 1% sporting event" after the opening ceremony for Formula 1's first race in the city for over 40 years.
Las Vegas last hosted a grand prix back in the early 80s that was run on a temporary built circuit on the Caesars Palace car park.
But after a 41-year absence, F1 is returning to Vegas on a brand-new track that runs through the centre of the city, including the famous Vegas Strip.
Temperatures are expected to be low due to qualifying and the race scheduled to take place late at night, which has caused concern that drivers may struggle to fire up the tyres.
But after participating in F1's opening ceremony on Wednesday, Verstappen was far from impressed at the off-track events that he felt made drivers "look like a clown".
"99% show, and 1% sporting event," Verstappen said, as quoted by RACER. "I just always want to focus on the performance side of things, I don't like all the things around it anyway. I know of course in some places that is part of it, but let's just say it's not in my interest … There is no problem, but it's just not really my thing.
"I fully understand. You can look at it two ways, business side or sport side. Of course I understand their side as well. I'm voicing my opinion on the performance side of things.
"It's not about the singers (in the opening ceremony). We are just standing up there, looking like a clown."
Verstappen said he doesn't expect F1 to take note of his opinion but suggested that the reaction from fans should be taken into account.
"My voice? It's also not my aim that it makes a massive difference," he said. "But when you ask me a question and I feel like I want to answer it, I'll answer it in an honest way.
"We are not a stakeholder, so we just go with it. They decide what they do, right? I would do the same if I was the owner, I wouldn't listen to the drivers. It's my sport, I would do with it what I want if that would be the case.
"If someone wants to go in this direction, you want a lot more show attached to the program, then I guess we have to deal with that. As long as everything goes well they can say everything is working well, let's see how long fans also like this."
Las Vegas marks the start of a double-header with Abu Dhabi to round out the season, which, given the stark difference in timezone, has been heavily criticised by Verstappen.
"When you're here it's not so much a problem, but then we have to fly to Abu Dhabi where it's already 12 hours difference but then also a completely different timezone, because basically we live on a Japanese time schedule, but then almost a different day.
"I don't really get that. That is very tiring, also at the end of the season that we have to do this, it doesn't really make a lot of sense."
---