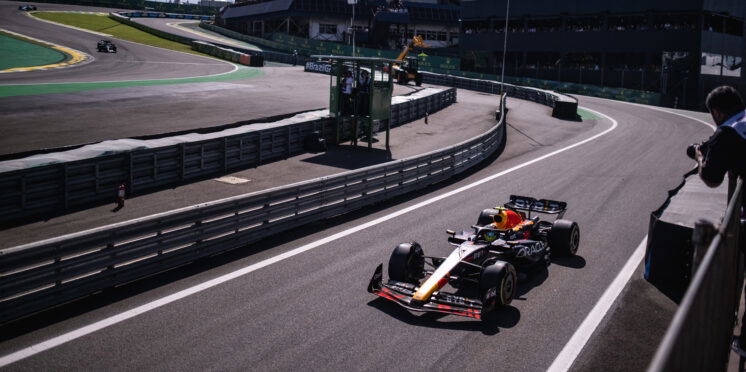 'Wrong' to carry over current F1 concept for 2024 F1 car, says Red Bull
Red Bull says it would be wrong for it to simply copy its current car design for next year's RB20 when its Formula 1 rivals are getting a "bit closer".
The Milton Keynes-based outfit has swept to a second successive championship double this year in dominant fashion, winning all but one of the races so far.
But although Red Bull's RB19 car has been the class of the field, other teams, mainly McLaren, have made huge gains during the season to close in on Red Bull's performance advantage.
McLaren has claimed two sprint race poles in recent races, while Ferrari beat Red Bull to pole in both Austin and Mexico, even if neither could compete with them for victory.
Red Bull is well aware that it faces growing competition, with McLaren tipped to be a major threat next year and Ferrari and Mercedes set to revolutionise its car design.
And while Red Bull will not completely ditch its current concept, the team insists it must make improvements to ensure it stays ahead of the rest of the grid.
"It would be wrong of us to just leave it alone because our opposition is getting a bit closer," said Red Bull chief designer Paul Monaghan, as quoted by Motorsport.com.
"But the rules are quite tight compared to what we've had in previous years and with previous generations of car, where we could do a little bit more and move things around.
"It perhaps wouldn't surprise you if I said it [the 2024 car] will be an evolution of the current car, as it will be a bit foolish to throw this concept away.
"But equally, we've got to make some progress. We've got to find some lap time. The opposition is on us and if they do a step, then we'd better have a bigger step.
"But it [the RB20] carries over a lot of the lessons and benefits of the current car, and then from Bahrain next year, we'll see whether we've done a good enough job."
Red Bull's 2024 challenger will benefit from more wind tunnel time that the preceding RB19 had due to the team's penalty for breaching the 2021 cost cap.
Now the sanction has elapsed, Red Bull will have the full 70% availability for aero testing and after its limitations last year, Monaghan said it forced Red Bull to be more efficient with its development.
"It forced us to look again at the efficiency with which we do tests in the wind tunnel environment and in CFD," he said.
"And whilst everybody has a restriction, everybody wants the efficiency, so that caused us to make some small improvements.
"I don't think they will be revolutionary, but any of those refinements we will keep as our benefit because, as we get a few more morsels of testing, then we use those morsels more efficiently."
---