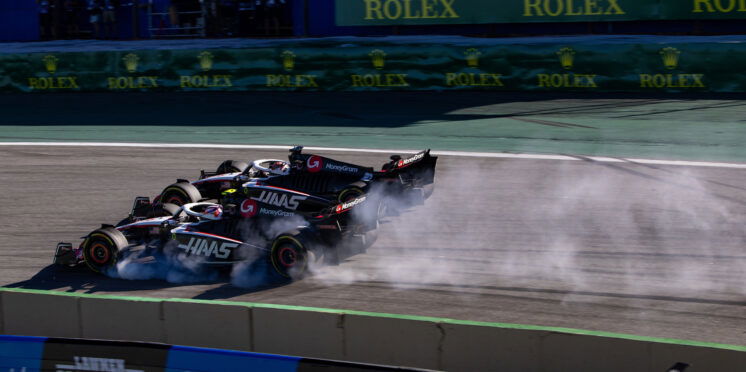 Haas splits car specifications between drivers for Las Vegas GP
The Haas Formula 1 team is to split car updates for this weekend's Las Vegas Grand Prix that will see Nico Hulkenberg revert to the older aero package.
Haas unveiled a late-season upgrade at the US Grand Prix last month that had been modelled on Red Bull's all-conquering RB19 car.
But despite optimism that the new package would elevate it further up the grid, the American-owned team is still being plagued by tyre wear issues.
Although Hulkenberg and team-mate Kevin Magnussen have qualified well in recent races they have been unable to make progress towards the points-paying positions.
As a result, Haas has made the decision to give each driver a different car specification for Las Vegas, which it insists is down to driver preference rather than gathering data.
"The main drive behind this was Nico feels that for him the old spec suits him better, and Kevin is the opposite," said team boss Guenther Steiner, as quoted by Motorsport.com.
"We've opted to give them what they want, we have two races to go and nothing to lose, so we've tried to do what we can.
"We could discuss gathering data, but we've got enough data, it's a decision based on what each driver likes more than anything else. It puts them in a comfortable position so that they're as happy as they can be with the car they get."
F1's first trip to Las Vegas in over 40 years is set to feature some unique challenges, particularly the cold temperatures with the event taking place late at night.
Steiner anticipates the new circuit to prove another tough test for Haas, but doesn't expect it to suffer as much with tyre degradation as in Brazil.
"The low temperatures are a challenge, as everyone knows you need to keep the tyres higher than the minimum temperature, which is higher than five degrees, so we always need to keep them a bit warmer, but it depends also a lot on the asphalt," he said.
"It's a combination of temperature and roughness of asphalt, but I don't think degradation can get much worse for us than in Brazil. On Thursday, during practice, we'll get to know the surface, the track, the temperature and then we'll know more."
---