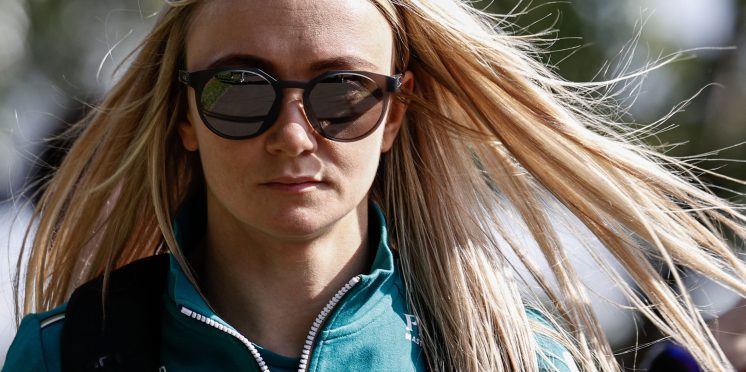 Jessica Hawkins: The first woman who drove an F1 car for 5 years
Jessica Hawkins made her dream a reality by driving a Formula 1 car for the first time last week in Hungary.
The British driver drove the 2021 Aston Martin AMR21 around the Hungaroing, in doing so becoming the first woman to get behind the wheel of a grand prix car since 2018.
Hawkins did something very special by driving that car as it brings more hope for women drivers to make the leap to F1 and end more than a 30-year wait to see a female racing in the series.
She completed a total of 26 laps in the car that claimed Aston Martin's first podium since its return to F1 in 2021 when Sebastian Vettel finished second at that year's Azerbaijan Grand Prix.
Speaking about her experience, Hawkins said: "I want to thank everyone on the Aston Martin F1 team for this chance. I have given everything to reach the point that I'm in.
When I learned about the chance to drive this car, I couldn't believe it. I had to keep it secret, a really hard thing. But the waiting deserved it. Nothing can be tightened up with this and seeing the telemetry I'm glad for my effort. It was a dream that came true.
"I want to give inspiration in other women and make them understand that they have to follow their dreams, independently of what they are."
YouTube: Jessica Hawkins completes debut F1 test with AMF1 Team
As part of her preparation for the drive, Hawkins has spent many hours driving in Aston Martin's simulator. In 2022 she finished ninth place in the now-defunct W Series and this year has increased her involvement with Aston Martin, attending several races over the season.
The last woman to drive an F1 car in an event prior to Hawkins was Tatiana Calderon, who completed a test for Sauber back in 2018.
It marks another key step in the ongoing attempts to afford more opportunities to woman drivers in F1, with the addition of a female driver on the grid hopefully not too far away.
---