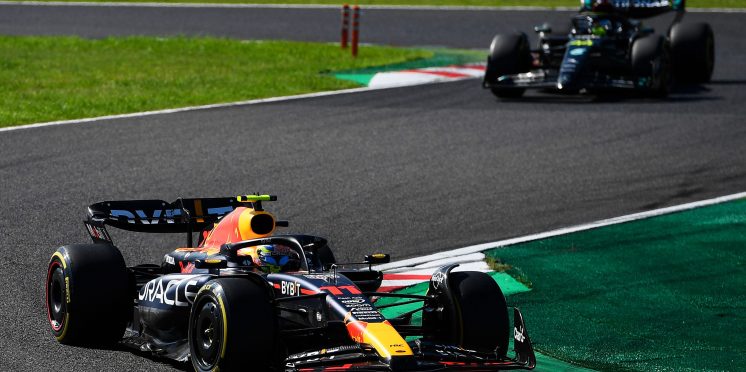 Hamilton makes Mercedes plea in bid to catch Red Bull in 2024
Lewis Hamilton says Mercedes need the "greatest six months of development" if it is to close the deficit to Formula 1 rivals Red Bull next season.
Mercedes remains a long way off Red Bull's pace, a situation that has played out since the beginning of the ground-effect era last year.
While Red Bull has stormed to back-to-back title doubles and won 32 out of the 38 races contested since the start of 2022, Mercedes has just one victory in that same period.
The Brackley-based team has failed to make inroads on Red Bull's performance advantage despite revising its car concept earlier in the season, with Hamilton finishing almost 50 seconds behind Max Verstappen in last weekend's Japanese Grand Prix.
Hamilton came home in fifth place at Suzuka after a close battle with Ferrari pair Charles Leclerc and Carlos Sainz that has intensified the battle for second place in the constructors' championship between the two teams.
"I mean, I'm exhausted for one. Fighting the car, fighting with absolutely everything I have to get as high up as possible and get ahead of Ferrari, which had an upgrade this week, so they were particularly quick," said Hamilton, as quoted by F1.com.
"They have been quicker the last three races, it was a hell of a fight. I'm really trying to hold on to the constructors' title… I know how important it is for everyone in the background, back at the factory, so giving it everything.
"But it's tough on weekends like this when the car is such a handful. Basically, the exact same as last year. Feeling wise the car felt just the same as last year, bouncing and sliding.
"That's tough given how much work we've done to progress, and we are not any closer to the front, at least here. But we did get ahead of one of the Ferraris, which is great teamwork, and great work from the guys in the pit stop and with strategy. Long way to go."
Mercedes has indicated its plans to go in a completely different direction regarding the philosophy of its 2024 car, the W15, in a bid to be in championship contention next year.
Hamilton has pleaded the team to put all of its focus and resources into next year's challenger for the remainder of 2023 and beyond, saying he has "absolute faith" Mercedes can go that extra step to be fighting Red Bull.
Asked how much of an input he has had in the 2024 car, Hamilton replied: "There are things that I've asked for that we've gone in a direction, part of the direction for next year. I think all the points that George and I give have been fully listened to.
"I have no idea where the car is going to be next year. But we are a long, long way away. We've got to hope the next sixth months has to be the greatest six months of development that we've ever had just to close that gap, to be really banging on the door.
"But the evidence is there with the McLarens, and we can't turn a blind eye to that, we've got to look at what they've done and go in that direction, that is the direction. But I truly believe my team can do it.
"We've always been great at putting downforce on the car. It's just that, with the way our car currently works, adding downforce doesn't work – it just makes it bounce more. Hopefully with the change in philosophy we will be back to where the team deserve.
"This is a world championship team; we still are an amazing team. I have absolute faith in everyone but decisions that are made in this period of time are critical to our trajectory."
---