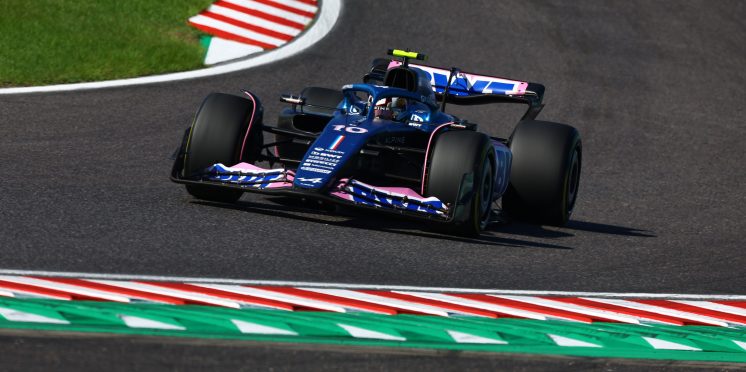 Gasly 'didn't understand' Alpine's order to let Ocon past in Japanese GP
Pierre Gasly says he "doesn't understand" why Alpine ordered him to swap positions with team-mate Esteban Ocon on the final lap on the Japanese Grand Prix.
Gasly was running ahead of Ocon in ninth place when he received an instruction from the team to move aside in the final stages of the race.
Despite angrily protesting on the radio, Gasly followed the order by slowing down after the final chicane to let Ocon by.
Gasly's anger was fuelled by the fact Ocon has jumped ahead of him through a different strategy before he was let through to try and overtake Aston Martin's Fernando Alonso for eighth place.
Having failed to pass the Spaniard before the end of the race, Gasly was asked to return the position, but speaking afterwards, he insisted Alpine had not discussed the possibility of team orders beforehand.
"It wasn't discussed before the race," Gasly said, as quoted by Motorsport.com. "It was clear with the strategy they had planned that at some point Esteban would undercut me, but my pace was faster and I would have to pass him back.
"I overtook him anyway on the race track because I had fresher tyres.
"It was never said that we would need to invert the positions again because I started ahead and I was always in front.
"As a team 10th and ninth or ninth and 10th is the same, but it was definitely not something I expected. And it's not something I really understand as well as I was the leading car, so we'll talk about it.
"I'm behind the wheel and my job is to go as fast as possible. I'm giving everything I can. Why give up a position, for what reason…"
Alpine later said the swap was in the best interests of the team and dismissed suggestions it could create friction between its drivers.
While Gasly admitted he initially refused to comply with Alpine's order as he didn't understand it, he hadn't wanted to put his own interests in front of the team's.
"Today I put the team in front of myself and that's what I will do anyway," he added.
"I think we did a good strategy as a team we did the best job we could with both cars.
"I don't understand the team's decision, but I respected it and let Esteban pass, but in the end it's three points for the team and that's what we will have to look at."
---