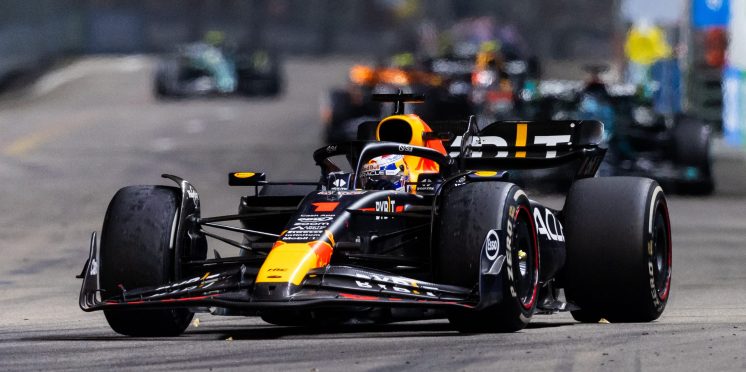 Red Bull dismiss F1 flexi wing clampdown as theory behind Singapore struggles
Red Bull insists the FIA's clampdown on flexi-wings and floors had "zero" baring on its performance woes in Formula 1's Singapore Grand Prix.
Heading to Singapore with an 100% winning record at every race in 2023, Red Bull was mysteriously off the pace at the Marina Bay Circuit, with neither car making it through to Q3 for the first time since Russia 2018.
While the RB19 proved more competitive in the race, Red Bull was unable to finish on the podium as Max Verstappen came home in fifth and team-mate Sergio Perez was classified P8.
The result comes after a technical directive was issued during the Singapore weekend clarifying the rules regarding flexible bodywork.
This is a bid to tighten up the ruling and prevent teams finding tricks to get around the regulation and find performance gains.
But while the new TD's and Red Bull's apparent lack of pace came hand-in-hand, team boss Christian Horner has played down suggestions it played a role in its struggles.
Asked to explain what had gone wrong for Red Bull in Singapore, Horner said, as quoted by Motorsport.com: "It's all engineering stuff. There's no silver bullets in this business.
"I know all of you would love to blame the TD, but unfortunately we can't even blame that, because it's not changed a single component on our car."
Pressed on whether the team had made any changes to its components to comply with the updated technical directives, Horner replied: "No. Zero."
Horner believes Red Bull's woes were related to set-up that triggered its bad qualifying performance rather than any link to the TD's.
"We knew coming here it would be expected to have closer competition," he said. "But I think it took us a bit by surprise, just how far out we were on Friday.
"I think that we were just not in the right operating window for the car, particularly over a single lap. And when you're not there, then the tyres feel horrible. Everything just doesn't work."
While Horner felt its pre-weekend simulations put Red Bull on the wrong foot, he insisted its difficulties were actually a "very useful lesson" for next year's car.
"I think that maybe our simulation before the weekend didn't lead us to the right conclusion," Horner said. "Then you have to sort of unravel your way out of that.
"I think we just ended up in the wrong window and it exposed some of our weaknesses that the car has. But it has actually been a very useful lesson for next year, because it gives us some very useful insight and certain things that hopefully we can address in our RB20."
---