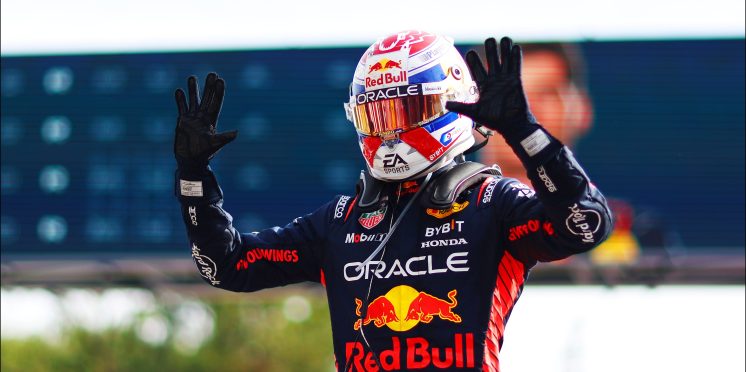 Wolff finds Verstappen's F1 win record 'irrelevant'
Mercedes boss Toto Wolff says Max Verstappen's record 10th consecutive victory in Sunday's Italian Grand Prix is "irrelevant" and is only "for wikipedia".
Verstappen's win at Monza saw him break the record for most successive wins, surpassing Sebastian Vettel's tally of nine set in 2013.
But while Verstappen's winning run has seen him create history, the two-time world champion has stressed records are not important to him.
After watching Verstappen stand on the top step of the podium once more in 2023, Mercedes Formula 1 chief Wolff insisted he was not impressed by the Dutch driver's record run.
"Our situation was a little bit different because we had two guys fighting against each other within the team," Wolff told Sky Sports F1.
"I don't know if he cares about the records. It is not something that would be important for me, those numbers. It is for Wikipedia and nobody reads that anyway."
During Mercedes' period of dominance in the V6 hybrid era, none of its drivers managed to score more than five wins in a row, although the team did register 10 straight victories on a couple of occasions.
But when Wolff was quizzed on the matter again, he expanded on why the statistic had no meaning to him before praising Verstappen for performing at an "extremely high level".
"For me, these kinds of records are completely irrelevant. They were irrelevant in our good days in Mercedes," said Wolff, as quoted by The Race.
"I don't know how many races we've won, or in a row. I didn't even know that there was a count on how many races in a row you win.
"Therefore asking me for comment on some achievement is difficult because it never played a role in my own life.
"But the result itself shows that a great driver in a great car are competing on an extremely high level."
Wolff's comments were later put to Red Bull team boss Christian Horner, who refused to get drawn into giving a response and instead heap praise on Verstappen's achievement.
"Look, I don't want to get drawn into to commenting on that," said Horner. "Max, what he's doing, he's breaking records, he's driving at an unbelievable level.
"And I don't think there's anybody in the world right now there could beat Max Verstappen in this car, that's for sure.
"You have to recognise and applaud what Max is doing at the moment. It's very special, to achieve what he's achieved.
"We shouldn't detract from that in any way. In sport, things like this happen very rarely.
"It's a golden moment for him and certainly a golden moment for the team."
---