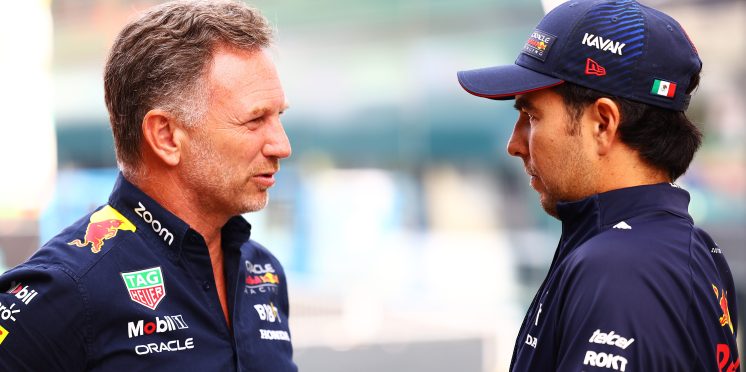 Horner insists Perez will stay at Red Bull in 2024 despite Marko comments
Red Bull team principal Christian Horner has stressed Sergio Perez will drive for the team next year despite comments made by Helmut Marko about the Mexican's future.
Perez's future at Red Bull has been a major topic in recent months after his early season form rapidly dipped and he's been consistently outperformed by team-mate Max Verstappen.
While Verstappen scored a record-equaling ninth straight victory in Sunday's Dutch Grand Prix, Perez hasn't won since Baku back in April.
Speculation around Perez has only grown further following Helmut Marko's comments during the Zandvoort weekend, suggesting in several interviews that it was not a formality Perez would be in the second Red Bull seat in 2024 despite having a contract.
But Horner has firmly dismissed Marko's claims, formally confirming Perez would remain a Red Bull driver next year.
"Checo's situation for next year is clear," said Horner, as quoted by Motorsport.com. "He's a Red Bull Racing driver. We have an agreement with him.
"Irrelevant of agreements, we're pleased with the job that he's doing. You saw his drive today, he was unlucky with the pit lane speed limiter [which cost Perez a five-second penalty that dropped him off the podium to fourth].
"He's second in the world championship, he's the only driver rather than Max to have won grands prix this year.
"It's easy to beat up on him when the barometer is so high on the other side, but he will be our driver in 2024."
Although Perez now sits 138 points adrift of Verstappen in the world championship, Horner defended the Mexican driver, believing he has the "most unenviable job" of being team-mate to a driver of Verstappen's calibre.
"Max is in a period of his career where he's just simply untouchable and I don't think there's any driver on the grid that would be able to achieve what he's been doing in that car," he added.
"Being his team-mate is probably in some respects the most unenviable job to have because the barometer is so high.
"You've got to look at the performance on the timesheet and the results sheet. If Max hadn't been there, Checo would have won another four or five races.
"So, he's doing his job. He's second in the world championship. You saw his performance today. He was unlucky to get the speeding fine. And hopefully he can add to his wins before the end of the year."
---