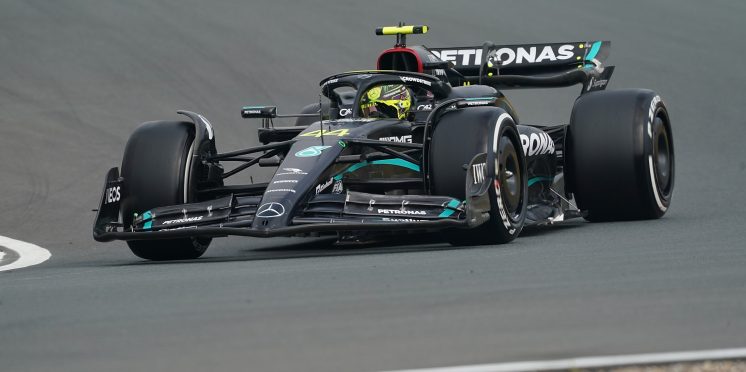 Hamilton 'biding my time' for when Mercedes give me a winning car again
Lewis Hamilton says he is just "biding my time" until Mercedes is able to produce a Formula 1 car capable of winning races again.
Hamilton has undergone a long barren run without a victory, stretching all the way back to the 2021 Saudi Arabian Grand Prix.
This has been down to Mercedes failing to hit the ground running since the new ground-effect rules were introduced last year, with the German manufacturer suffering two difficult seasons after its previous run of dominance in the V6 hybrid era.
While Hamilton has visited the podium 13 times since the start of 2022, success has been at a premium, and he only secured his first pole position in 33 races before the summer break in Hungary.
But despite Mercedes not being in a position to win races, Hamilton insists helping the team improve the W14's performance acts as motivation for when it can deliver him a car that can race regularly at the front of the field.
Asked where he was finding the desire during a long period with limited success, Hamilton said, as quoted by Motorsport.com: "I don't think it's particularly difficult, because there's always areas that you can improve. [We're] just working on fine-tuning how we work in the background.
"We're constantly trying to improve our processes, we're continuously making adjustments. It's improving our communication in the background, making sure the heads of departments are getting the real information through.
"And deep diving on to certain subjects, whether it's bouncing, whether it's car characteristics, through corner balances, all these sorts of things.
"I've had more time to be able to focus on that with the team than ever before. And generally, be even more hands-on in the direction that we're going with the car next year.
"And when I step away, just making sure that I'm fit and mentally in the right place for when the car is right. And so hold on to that.
"Fortunately, I've got these other things that keep me motivated as well, which tap into the whole ecosystem. Like the [Brad Pitt] movie for example. So yeah, I'm just biding my time."
Hamilton said Mercedes is still learning more and more about the current cars on-track behaviour through each session, believing the information it is gathering will be crucial to taking a step forward with next year's W15.
"We're always learning more and more about the characteristics, the airflow, how the car works in cross winds, how it works in the high, medium and slow speed corners, how you work with the tyres," he said.
"High-downforce, mid-downforce, low-downforce settings. So you're constantly learning, there's constantly data being delivered and analysed, and I'm learning more every time we get in the car.
"We're learning more about how we can use the engine differently, and how we can use the fuel. So you always learn."
---